Atlanta Braves Franchise Top Managers: #5 – Fred Haney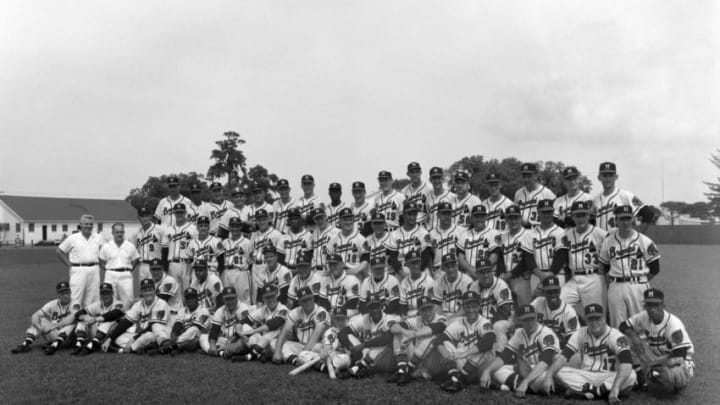 At Spring Training: your 1957 Milwaukee Braves.... 9 years before becoming the Atlanta Braves (Photo by: Kidwiler Collection/Diamond Images/Getty Images) /
Sixty years before Atlanta Braves All-Star Ozzie Albies manned second base Felix Mantilla turned double plays for the Milwaukee Braves. 1959 Press Photo Braves Felix Mantilla Tags Out Phillies Player /
Number five on the list of Atlanta Braves Franchise's best managers in was at the helm for only three and a half seasons and never finished lower than second place. Fred Haney even won a World Series.
The Atlanta Braves like to keep successful managers on board, but that's not how the franchise historically handled the job. After cutting ties with Billy Southworth in 1951, and Tommy Holmes shepherded the club through its last year in Boston, Charlie Grimm took over.
Jolly Charlie raised the team to second in 1953 and led the team to a 317-263 record – .467 W-L% when the 1955 season ended. Instead of roaring out to start a championship run, the team started 1956 24-22. Braves leadership felt Grimm was too laid back and replaced him with the number five manager on my all-time list, Fred Haney.
Natural Athlete
Fred Girard Haney was born in New Mexico Territory 14 years before it became a state. His family moved to Los Angeles, where Haney attended Polytechnic High School and where his SABR Bio tells how he became one of the first great high-school athletes in the history of Los Angeles.
"". . . he was a four-year letterman in three sports. Named twice to the All-California Interscholastic football team (held) several swimming titles, (was) a member of the water polo team, and the city's junior handball champion,""
At 5'7 and 170 pounds, Haney wasn't svelte, but he was fast, a trait he relied on throughout his playing days. He began his minor league playing career in 1919 with Portland in the old Pacific Coast International League. He moved up to the Los Angeles Angels in the Pacific Coast League later in the year and played there through 1920.
In 1921 he moved to Omaha in the Western League and played well enough to convince the Tigers to purchase his contract for $5000 plus four players, including the then 19-year-old Heine Manush.
Manush would move to Detroit in 1923 and earn a plaque in Cooperstown. Haney's career wasn't as lauded as that of Manush. Haney would become a frequently traded super-utility man on the Red Sox, Cubs, and Cardinals before losing a kidney ended his Major League playing career in 1931.