Atlanta Braves Top 10 Managers in History: #8 – John Morrill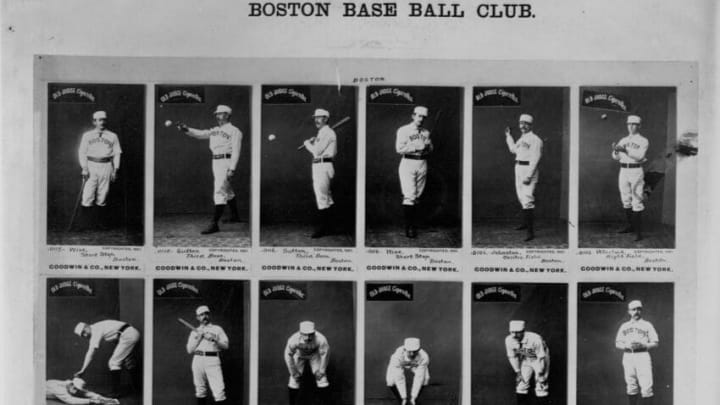 The Atlanta Braves' forerunners were the 1887 Boston Beaneaters. (Photo by Library of Congress/Corbis/VCG via Getty Images) /
Opening day for the Atlanta Braves at Truist Park is a far cry from the Boston's opening day in 1889. (Photo Reproduction by Transcendental Graphics/Getty Images) /
A friend in need?
The Atlanta Braves have a history of players who take quiet leadership roles on and off the field. As a player/manager, John Morrill exhibited those qualities in ways we never see today.
Jack Burdock became manager at the start of the 1883 season, but no one knows why, as Morrill was still with the team. However, hindsight suggests Burdock got the job because Morrill pressed ownership to give it to him. A view supported in Burdock's SABR biography linked above.
". . . Burdock began the season in the unusual role of manager for . . . home games, taking over for his friend John Morrill (and possibly at his recommendation), with Morrill serving as manager when the team was on the road . . ."
Burdock's bio suggests that the player needed the extra money, and as already noted, he produced his best season at the plate.
Hail to the king
In 1887, Boston paid Chicago $10,000 for King Kelly and gave Kelly a $5,000 salary. The National League capped player salary at $2,000, so the remaining $3,000 we theoretically paid for the rights to use Kelley's picture in advertising.
Kelly's biography doesn't mention it, but he was also manager for the first 92 games of the season. Morrill took over for the final 29 games on September 1.
Epilogue
Morrill's final three+ seasons as manager weren't good ones The club finished:
41 games back in fifth in 1885,
30 games back in fifth in 1886,
16.5 games back in fifth in 1887, and
15.5 games back in fourth in 1889
After the 1888 season, ownership, well, two-thirds of the ownership group, decided that Morrill had to move on, overruling team president Arthur H. Soden.
". . . reportedly "Soden actually shed tears when the other two, Billings and Conant, outvoted him and released [John] Morrill," who was the longtime field manager of the team. (The Glorious Beaneaters of the 1890s, page 216)"
That's a wrap
It's hard to imagine the Atlanta Braves, or any team, keeping an ex-manager around and reinstation him twice when his replacement failed, but Morrill managed Boston for eight years and played with them for five more.
Almost everyone liked or at least respected John Morrill, even those who openly disagreed with him. King Kelly famously wrote that Morrill knew the rules of the game and was a better manager than Cap Anson, and Kelly was not his buddy.
Most fans today have never heard of John Morrill or know that he led a franchise team to a league championship at 29 years old. But now, you do; tell a friend.