Atlanta Braves Top 10 Managers in History: #8 – John Morrill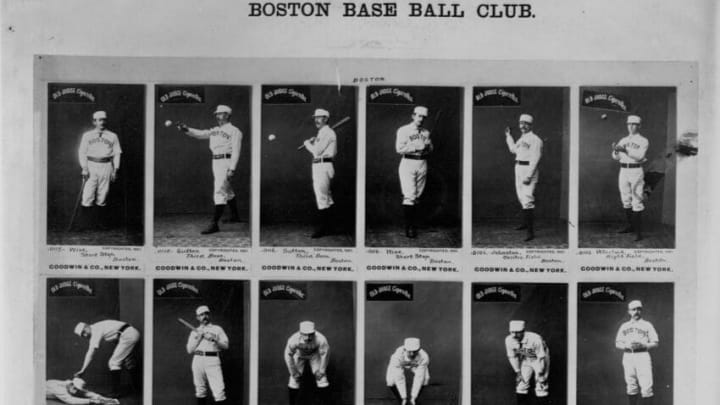 The Atlanta Braves' forerunners were the 1887 Boston Beaneaters. (Photo by Library of Congress/Corbis/VCG via Getty Images) /
Before the Atlanta Braves had Austin Riley or Chipper Jones, Ezra Sutton played the hot corner for the Boston Red Caps. (Photo by Heritage Art/Heritage Images via Getty images. /
Championship Seasons: Atlanta Braves vs Boston Beaneaters
Atlanta Braves' history includes several exciting, season-ending runs like the 20-10 run that ended the 2022 season, but in1893 Morrill led his Boston team on a steak for the ages.
Boston's 1893 season started badly. An eight-game losing streak drove the club to a 6-19 May, but a 17-5 June raised them from seventh to third, five games back of Providence.
The team's rollercoaster season continued when they started July winning six of eight, then began a slump that ended with a loss on July 28, a 2-9 run that put Morill's men fourth, 8.5 games back. Then their luck changed.
On July 31, the Boston's beat the Cleveland Blues in the first game of a four-game series in Cleveland. The Blues forfeited game two, and while the league didn't know it, the pennant race was over.
From July 31 through September 29, Morrill's men posted a 31-7 record to move from 8.5 games back to winning the league by four games over the Chicago White Stockings (Cubs).
The 1884 Beaneaters
Pennant-winning teams usually have a couple of players having career years. The 1883 team featured four batters at or near their peak.
Morrill – .319/.344/.525/.868
Jack Burdock – .330/.353/.475/.828
Ezra Sutton – .324/.350/.486/.836, and
Joe Hornung – ,278/.291/.446/.737
Pitcher/Outfielder Jim Whitney chipped in with his second-best season at the plate – .278/.291/.446/.737 – and was the Ace of the staff posting a 31-21 record, two saves, and a 2.09 ERA in 514 IP.
The 1884 group experienced what we call a serious regression today. Only Ezra Sutton repeated his excellence, posting a .346/.384/.455/.839 with Bill Crowley's .703 OPS the second highest on the team.
Fortunately for Boston, the rest of the league experienced a similar decline, allowing Boston's pitching to lead them to a 73-38 record, 10.5 games back of the Providence Grays.
In 1883 and 1887, Morrill remained as a player under new player/managers, then took over during the season because the team was struggling