Atlanta Braves History: How the Red Stockings became the Braves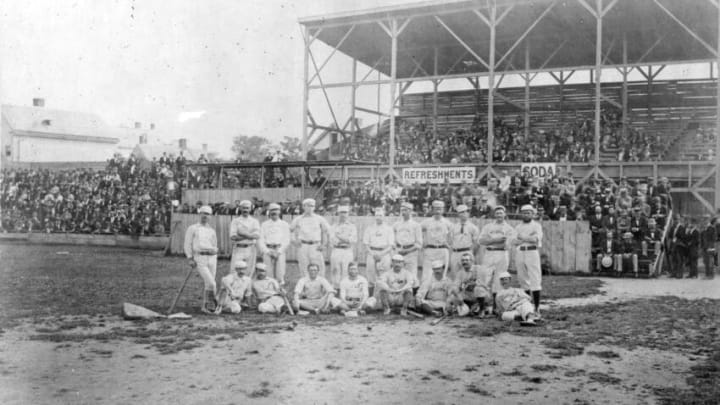 Atlanta Braves predecessor Boston Red Stockings prepare to play the Philadelphia Athletics in 1872 (Photo by Mark Rucker/Transcendental Graphics, Getty Images) /
The franchise that's now home to the Atlanta Braves grew from Harry Wright's Boston Red Stockings. (Photo by Mark Rucker/Transcendental Graphics, Getty Images) /
The Beaneaters?
While everyone calls the Boston National League Base Ball Club the Beaneaters today, it was never the official nickname.
"From 1877 through 1900 they had no nickname; they were simply the Bostons. As discussed above, the name Beaneaters was hardly ever used locally and was more of a nickname for the city than the team. (Setting the Record Straight on Major League Team Nicknames)"
When the upstart American Association declared itself a Major League and added the Boston Americans franchise, the Bostons became the Boston Nationals.
The nickname didn't change after John and George Dovey bought the franchise in 1907, but that didn't stop the local press from calling the team both the Doves and Nationals. In 1909, George Dovey died and his brother sold the team to William H. Russell the following year.
The press couldn't bring itself to return to the Nationals nickname they stopped using in 1908 and tried to find a nickname related to the new owner. Today. the team's mostly referred to as The Rustlers, but it wasn't an accepted or widely used name then.
Finally the Braves, or not, but yes, they are!
In 1911, Russell died, and James Gaffney bought the franchise and appointed minority owner John M. Ward as team president. Gaffney was active in Tammany Hall, whose logo was an American Indian, and the general membership was called Braves.
Paying homage to the Hall was always a good idea for successful members like Gaffney, and Ward suggested that the newspapers call the team the Braves. Glad that they didn't have to figure out a name for themselves, the papers obliged.
After George Stallings led the Boston Braves to a miracle World Series win in 1914, the Braves franchise sunk into mediocrity. The franchise changed hands five times between 1916 and 1927 and, as I wrote last year, might have vanished if not for Judge Emil Fuchs.