Atlanta Braves History: How the Red Stockings became the Braves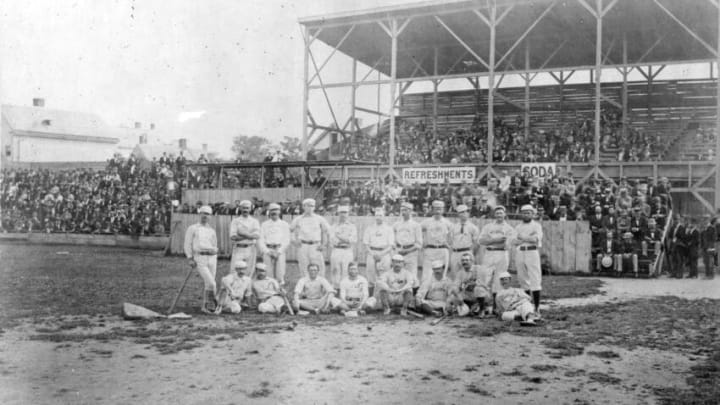 Atlanta Braves predecessor Boston Red Stockings prepare to play the Philadelphia Athletics in 1872 (Photo by Mark Rucker/Transcendental Graphics, Getty Images) /
Atlanta Braves forerunners, the Boston Red Stockings Base Ball Club of 1875. Albert Spalding, far left, Jim O'Rourke, third from right, and George Wright, far right, are the stars of the team. (Photo by Mark Rucker/Transcendental Graphics, Getty Images) /
The Atlanta Braves played its first game on May 5, 1871, as the Boston Red Stockings, beating the Fort Wayne Kekiongas 20-18. Thirty-one years later, they became the Braves.
In the Beginning, they wore red stockings.
The franchise that became the  Atlanta Braves wasn't alone in having growing pains, but it survived while others rose and fell; the 1870s was the wild-west of professional baseball. In 1925, noted Boston Globe sports reporter Ford Sawyer described the early days as precarious.
""the days when baseball playing was a rather precarious undertaking and one didn't know whether or not financial adversity would cause the league to toss up the sponge." ("Veterans of Boston Teams of 70's At Golden Jubilee Celebration," Boston Globe, May 9, 1925: 8.)"
Harry Wright led the franchise and the short-lived National Association of Professional Base Ball Players (NAPBBP) league through the days when baseball was still two words and into dominance in the new National League.
He came to Boston after the Cincinnati team he led to national prominence collapsed at the behest of Ivers W. Adams, bringing the Red Stockings name and the best players from his old team.
Baseball-Reference.com shows the club as the Red Stockings through 1882, though many in Boston shortened it to the Reds. Cincinnati contacted Wright, and he agreed that the new Queen City team could again use the name in the 1877 season.