Atlanta Braves lineup needs consistency and better at-bats to win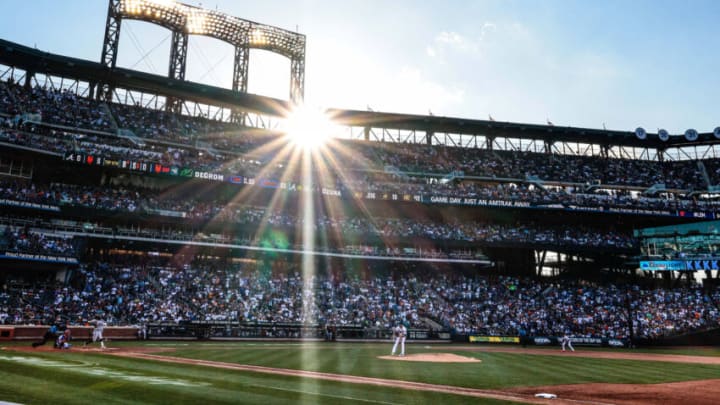 Aug 7, 2022; New York City, New York, USA; New York Mets starting pitcher Jacob deGrom (48) delivers a pitch during the sixth inning against the Atlanta Braves at Citi Field. Mandatory Credit: Vincent Carchietta-USA TODAY Sports /
The Atlanta Braves were picked apart by two of the game's best pitchers last weekend, and parts of the lineup didn't put up a fight.
As Jake wrote on Monday. the Atlanta Braves renewed their acquaintance with a top-five pitcher in baseball on Saturday and the best pitcher in the game on Sunday… with predictable results.
The Atlanta Braves didn't lose because the Mets were lucky. They lost because the Mets played better baseball all weekend. The Braves were predictable, their defense problematic, and their lineup impotent.
No team fares well against deGrom and Scherzer when they pitch as they did on Saturday and Sunday, However, Carrasco on Thursday and Peterson in game one Saturday also had little trouble with the Braves lineup.
The Braves got to Walker early Friday night and gave Anderson his usual inexplicably large run support, then surrendered to the Mets bullpen except for William Contreras' solo homer in the ninth inning. If we take off the rose-colored glasses, it's pretty easy to see why.
Atlanta Braves air conditioning
The slider is now the dominant pitch in baseball, and the Braves struggled with it throughout the Mets series.
No one hits deGrom's 94-96 mph slider with its late break or Scherzer's slider with its depth and late movement unless they make a mistake. But the Braves lineup struggled against every slider they saw.
Fangraphs shows Carrasco with a 13.2% whiff rate so far this season; StatCast shows that the Braves whiffed or looked at half of his sliders become strikes and whiffed on 33% of his pitches overall – 17 of 51 swings.
Likewise, Peterson's posted a 12.1% WHIFF rate for the year, and StatCast shows the Braves whiffed at a 34% rate – 11 of 32 swings.
Among seven contending teams from July 1 to August 8, the Braves:
.330 wOBA ranks fourth
42.2% GB rate. .314 OBP and 109 wRC+ rank fifth
14.4% WHIFF rate, 7% walk rate, and 18.8% Line drive rates rank sixth
 

wOBA

wRC+

 

 

Since 7-1-2022

Pos

RK 7

Pos

MLB RK

NL RK

RK Vs. 7

WHIFF %

Lg WHIFF

Catcher

.318

3

101

11

4

3

15.1

11.5

First base

.340

5

116

14

9

6

14.9

10.8

Second base

.276

7

72

24

13

7

12.2

9.5

Third Base

.502

1

226

1

1

1

12.4

10.7

Shortstop

.330

4

109

9

4

4

13.3

10.5

Left Field

.278

7

74

25

12

7

14.4

11.1

Center Field

.338

1

115

6

3

3

15.6

11.9

Right Field

.290

6

82

21

10

6

12.8

11.9

DH

.294

7

85

18

10

7

14.6

11.1
There are two spots in the lineup opposing pitchers can point to with a relatively high degree of certainty of getting an out. The only way to make it harder on opposing pitchers is to have better at-bats.
The homer giveth; the homer and the glove taketh away.
The eye test tells us the Atlanta Braves depend heavily on home runs. Stathead searches like this one show that in the July1-August 8 period, the Braves scored 78 of 150 runs  – 52.7%- via the homer, the most of any contender. The Dodgers scored 68 of their 192 runs (35.4%) with the home run.
At the same time, Atlanta Braves pitching gave up 27 homers, only the Dodgers with 25 gave up fewer long-balls, and none of the other seven teams I looked at gave up less than 30.
Most of the homers allowed by Braves pitching were solo shots; only 38 of the 441 runs the Braves allowed – 8.6 % – came via the homer; unearned runs accounted for 9.1% of all runs allowed. Max Fried and Jake Odorizzi each allowed only two earned runs in their starts against the Mets.
That's a wrap
There's no point diving into who we'd like to flush out of the Atlanta Braves lineup. The team we have is the one we have to win with. Using Will Smith to acquire Odorizzi was a magic trick that gave the rotation much-needed depth and innings.
The addition of the right-handed power arm I asked for (thank you) in the form of Raisel Iglesias makes the back of the pen stronger, and the impending arrival of Kirby Yates will add to that strength.
Robbie Grossman was an excellent pickup. Injuries made his stats look bad, but he's a nice fit in the Braves lineup. He hits the ball hard and is a very smart baserunner.
All of these changes help a lineup struggling against both sliders and good pitching in general.  It remains to be seen if the adjustments at the plate are made to improve game outcomes.