Atlanta Braves add Joe Adcock to the Braves Hall of Fame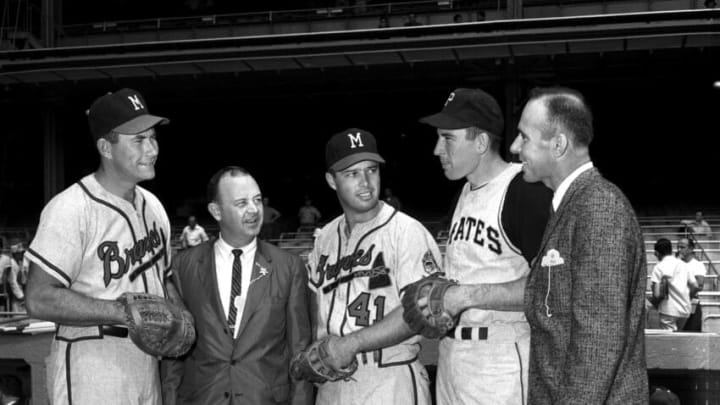 BRONX, NY - JULY 13: (L) Joe Adcock and Eddie Mathews (C) of the Milwaukee Braves and Bob Skinner of the Pittsburgh Pirates pose for a portrait with representives of Rawlings Sporting Goods prior to the MLB All-Star Game on July 13, 1960 at Yankee Stadium in the Bronx, New York. (Photo by Olen Collection/Diamond Images/Getty Images) /
Milwaukee Braves' first baseman Joe Adcockat the Polo Grounds in 1953. (Photo by: Kidwiler Collection/Diamond Images/Getty Images) /
Pain? What pain?
The Braves rewarded Adcock with a two-year, $50K deal, a highly unusual contract for 1957. However,  Adcock's injury demon returned; he was batting .306/.349/.562/.911 when he tore the ligaments in his knee.
Atlanta Braves fans will remember what that looks like and how long it took Ronald Acuna Jr. to return. However, it was 1955, and Adcock returned to the lineup as a pinch hitter three days later, entered the game at first base in the ninth inning the next day, and started the game at first base on June 5, ten days after he tore his injury.
Adcock tried to play through his injury but went on the disabled list at the end of June, missing July and August. In what I consider an amazing act of strength and endurance, Adcock appeared in 34 games after tearing up his knee, hit eight homers, five doubles, and a triple, and batted .261/.353/.511/.864.
Joe played in five World Series games and drove in the run that beat lefty Whitey Ford 1-0 in game six as the Braves claimed their first World Championship since 1914.
League Champs again, but no cigar.
Recurring knee issues – no surprise there – forced Adcock to platoon with Frank Torre at first base over the next three years. Adcock hit 19 home runs, batted .275/.317/.506/.823 and finished 22nd in NL MVP voting in 1958, and batted .308 in the World Series,
Only three men played at least 1000 games at first base and hit 200 home runs between 1953 and 1961. New Hall of Famer Gil Hodges, Joe Adcock, and Ted Kluszewski. Statistics from Stathead.
| | | | | | | | | |
| --- | --- | --- | --- | --- | --- | --- | --- | --- |
| Player | HR | BB | SO | BA | OBP | SLG | OPS | OPS+ |
| Joe Adcock | 239 | 377 | 732 | .285 | .343 | .511 | .855 | 131 |
| Gil Hodges | 231 | 543 | 727 | .279 | .359 | .500 | .859 | 121 |
| Ted Kluszewski | 205 | 339 | 218 | .302 | .366 | .533 | .900 | 133 |
Hodges had a much longer career.
Adcock continued to mash over the next four seasons, hitting 25, 25, 35, and 29 homers. After posting a .757 OPS in 1953, Adcock consistently posted an OPS of .807 or more.
And one more record
When the Milwaukee Braves squared off against the Cincinnati Reds on June 8, 1961, the Reds were leading the NL, with the Braves in seventh place, 13 games behind them.  Entering the top of the seventh, the Reds led 10-2.
Frank Bolling singled to lead off the inning and what happened next made baseball history.
Eddie Mathews homered to right off of starter Jim Maloney. Henry Aaron said I can do that too, and hit one to left.
The Reds decided Maloney might be tired and brought Marshall Bridges in to face Adcock, who promptly crushed a homer to dead center field, and Frank Thomas followed with a homer of his own, once again to center field.
For some reason, Joe Torre didn't join the homer parade, but the Milwaukee Braves had just become the first team to hit back-to-back-to-back-to-back homers in a game. The Braves lost, but only Reds fans remember that part.
When Aaron, Adcock, Mathews, and Thomas hung up their spike, they had a total of 1,889 homers. The total would have reached 1890 had Aaron not left the field after an Adcock walk-off homer in another game, causing Adcock to be called out for passing the runner.