Atlanta Braves add Joe Adcock to the Braves Hall of Fame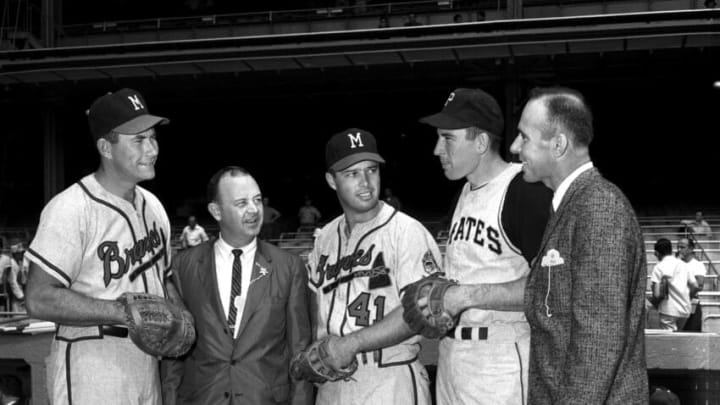 BRONX, NY - JULY 13: (L) Joe Adcock and Eddie Mathews (C) of the Milwaukee Braves and Bob Skinner of the Pittsburgh Pirates pose for a portrait with representives of Rawlings Sporting Goods prior to the MLB All-Star Game on July 13, 1960 at Yankee Stadium in the Bronx, New York. (Photo by Olen Collection/Diamond Images/Getty Images) /
Milwaukee Braves first baseman Joe Adcock, at Ebbets Field (Photo by: Kidwiler Collection/Diamond Images/Getty Images) /
Record setter
In 1954, Adcock became the eighth hitter to crush four homers in a game — one homer off each Dodger pitcher he saw — and set an all-time record of 18 total bases in a game. In the next game, Dodger pitcher Clem Labine beaned Adcock, cracking his batting helmet.
In the next series against the Dodgers, he hit his ninth homer of the season in Ebbets Field, the most for any visiting player. The next day Don Newcomb hit him and broke Adcock's thumb.
Remember Jim Hearn?  In 1955, two years after Adcock embarrassed Hearn with that monster home run. Hearn hit Adcock, breaking his wrist and ending his season.
Braves fans who remember how they felt when Aaron Loup broke Freddie Freeman's wrist in 2017 will know exactly how Milwaukee Braves fans felt.
Ask about getting hit so often; Adcock's answer was straightforward.
""You've got to make up your mind – do you run away from pitches or stay in there and hit? There are a dozen different stances but I've got to use the one that's natural for me and stay in there.""
Braves first basemen own Brooklyn and Queens.
Joe Adcock owned the Dodgers and the Giants. In June 1956, Adcock hit his record-setting 13th home run against Brooklyn, over the center field walk at the 365-foot mark, and landed 83 above the wall onto the double-deck roof of Ebbets Field.
In July, Adcock was on a home run rampage, hitting 15 homers and driving in 36 runs. Giants pitcher Ruben Gomez decided Adcock needed a lesson and hit Adcock on the wrist. Adcock hadn't done anything that day to warrant a reprisal and considered it head-hunting. Then, as they say, the fight started… or would have had Gomez not run like a rabbit. Adcock's SABR bio describes the scene that followed.
"In the ensuing melee, Gomez threw another ball at Adcock, striking him in the leg. Adcock then chased Gomez into the Giants' dugout, where by some accounts, Gomez found an ice pick but was wrestled to the ground by teammates before he could return to confront Adcock. Two days later, Adcock took revenge by clouting two home runs, including one of his ten career grand slams, and driving in a career-high eight runs in a 13-3 Braves victory."