A failed negotiation might help the Atlanta Braves bring back Dansby Swanson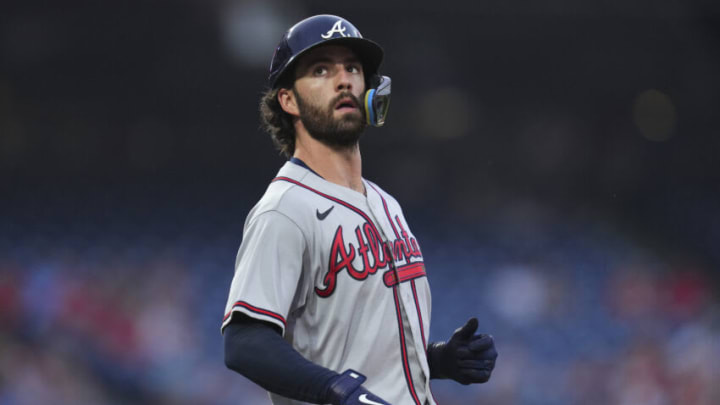 Dansby Swanson of the Atlanta Braves is looking for a big payday soon... but other events may be conspiring against him. (Photo by Mitchell Leff/Getty Images) /
National League shortstop Dansby Swanson (7) of the Atlanta Braves with wife Mallory Pugh during the Red Carpet Show at L.A. Live. Mandatory Credit: Gary A. Vasquez-USA TODAY Sports /
A key member of the Atlanta Braves is in his walk year, but an impasse on an unrelated topic will make it more difficult for him to actually walk away.
If Dansby Swanson wasn't in the midst of a career year, none of what follows might have mattered.  The Atlanta Braves might not even be that concerned about losing their starting shortstop.
But things have changed.  Here's a player who had accumulated just 8.8 bWAR of production over the past 6 seasons… and suddenly he's threatening to blow past 5.0 bWAR for just this season alone. Currently, his 3.9 ranks 10th in the National League… for any player.
Swanson's batting average is up 36 points above his career numbers and his OPS+ has jumped from a "meh" 94 to a robust 123.
By the reckoning of fangraphs, Swanson is now leading all shortstops in baseball with a 4.5 fWAR while second place Trea Turner is well back at 4.0.
These are the kinds of players you want to keep around… never mind Swanson's ability to 'captain' an infield with a great sense of situational awareness.
But with that dramatic performance increase, Swanson has also made himself quite a bit more expensive to retain… which has created two problems – one each for the Atlanta Braves and for him:
The Braves' side is that they need to figure out how to value his performance.  The key point here is that they have to figure out if it's "real"… i.e., will Swanson continue to perform at a level like this for the next 3-to-6 years or so?
The problem for Swanson is that he may very well be playing himself into the position of being saddled with a Qualifying Offer at year's end.