Atlanta Braves Prospects: Freddy Tarnok Scouting Report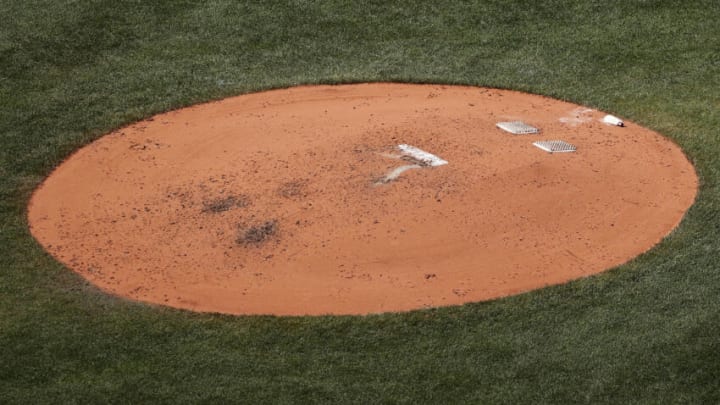 BOSTON, MA - JULY 28: The pitching mound is seen during first game of a doubleheader between the Boston Red Sox and the Toronto Blue Jays at Fenway Park on July 28, 2021 in Boston, Massachusetts. (Photo By Winslow Townson/Getty Images) /
Braves fans watch Game 5 of the World Series. (Photo by Megan Varner/Getty Images) /
The Atlanta Braves have a ton of starting pitching depth in the minors, and perhaps the one with the most upside is Freddy Tarnok.
When the Atlanta Braves began their rebuild they focussed on stockpiling starting pitching.
They did so knowing not all of them would pan out, but they played the percentages knowing some would and they've been rewarded with frontline starters like Mike Soroka, Max Fried, and Ian Anderson.
But it's not over yet as they have eight more starting pitching prospects in their top 15 with six of them knocking on the door of the big leagues.
Freddy Tarnok isn't one of those knocking on the door just yet, but he could be soon, and he just might have the most upside of them all.
The Braves went well above the 2017 third-round draft slot value of $709,000 to sign Tarnok for $1.45 million banking on the potential of the lanky 6-foot-3 right-hander.
In that 2017 season, he posted a 2.57 ERA in 8 starts with 10 strikeouts in 14 innings. Then at Single-A in 2018 he posted a 3.96 ERA in 77.1 innings with 83 strikeouts and a WHIP of 1.435 with a high BB/9 of 4.8.
Battling through injuries in 2019, he posted a 4.75 ERA in 106 innings (22 starts) with 91 strikeouts and a WHIP of 1.368.
He really took major strides forward in 2021 with a 3.68 ERA between High-A and Double-A and a WHIP of 1.145 with a K/9 of 13.4 and a BB/9 of 3.4.
And what has a lot of Braves fans really excited is that he started to take off in the second half of the season when he moved up to Double-A.
You have to keep in mind, he did not pitch much in high school, so he's still learning the craft. That's why you can still dream on his potential at this point.