Atlanta Braves 2022 Roster: lots of work to be done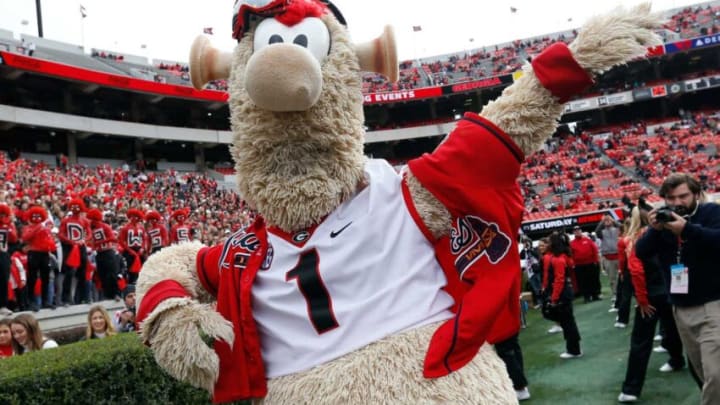 Atlanta Braves mascot Blooper gets ready for kickoff at Sanford Stadium for the Missouri/Georgia game.News Joshua L Jones /
Atlanta Braves right fielder Joc Pederson speaks during the World Series championship rally. Mandatory Credit: John David Mercer-USA TODAY Sports /
Big Changes Could be Coming
The last couple rounds of agreements have not changed the major elements of how baseball handles its business with players… but this one could.
Seemingly every topic from arbitration to free agency time frames to salary caps could be in play this Winter (never mind playoff formats and the designated hitter), and that could impact both how much GM's can spend and how they choose to spend it.
We can expect a few things to happen — though we can't guarantee even that.  Things like players under the arbitration system now might be 'grandfathered' into the old rules.
That would allow the Braves, for example, to treat Swanson the same as before (his final arbitration year is coming up in 2022).  But a player like Riley, who would be a 1st-timer in his arbitration years, might be swept into a new set of rules… but even that's a guess, as nothing has been hammered out yet.
If so, the Braves might have to consider whether they'd prefer to try and get him under a contract extension immediately… with Riley likewise having to decide if that would be appealing to him.
The Free Agents
Here is the list of players "electing" free agency over the past week+:
Chris Martin
Drew Smyly
Jesse Chavez
Ehire Adrianza
Edgar Santana (he was actually released as part of a flurry of roster moves prior to the World Series)
All of the "rental" players so instrumental in bringing home this title have now opted out… at least for now.  Joc Pederson had a mutual option attached to his contract: he has chosen to decline that option and that's why he's now on this list.
It's clear that Atlanta needed many of these players to get to the championship.  It's less clear about their needs going forward:  that will depend on other acquisitions still to come (center field, an additional reliever, perhaps another veteran starter, bench bats).
It's therefore reasonable to expect that this part of the roster rebuild will take some time to complete this Winter.  So be patient.