Braves: Can Dansby Swanson Stay Hot and Avoid the Cold Streak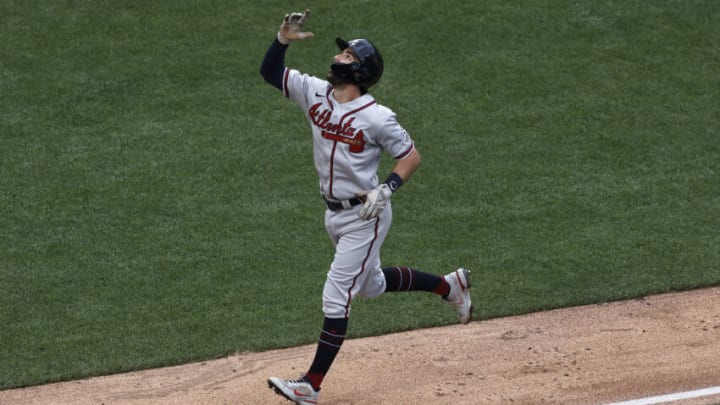 NEW YORK, NY - JULY 29: Dansby Swanson #7 of the Atlanta Braves reacts after hitting a home run during the eighth inning against the New York Mets at Citi Field on July 29, 2021 in New York City. The Mets won 6-3. (Photo by Adam Hunger/Getty Images) /
Dansby Swanson has notoriously had huge spikes of success followed by huge cold streaks in his career with the Atlanta Braves. 
It's been the same thing for a while now with Atlanta Braves shortstop Dansby Swanson.
You check Twitter one month and everyone is ready to trade him off or straight up cut him. But come back next month and everyone loves him again.
He is a very polarizing player among Braves fans because he gives you such a roller coaster throughout the season.
You look at the overall numbers on the 2021 season for the 27-year-old and it pretty much explains that he's an average baseball player, which falls in line with his extreme hot and cold streaks.
He's hitting .252 with a 103 wRC+ and .777 OPS.
However, his solid defense is what makes him better than the average shortstop and why FanGraphs has him as a 2.2 WAR player. Not to mention he's already set a career-high in home runs with 20.
Braves: Dansby Swanson's history of hot and cold
Let's just look at his 2021 season by month. He slashed .189/.267/.316 in April with a .582 OPS and just 2 home runs with 31 strikeouts.
His Statcast Numbers for that month: .239 xBA, 47% HardHit%, 90.7 MPH Avg Exit Velo.
In May he slashed .290/.317/.559 with a .876 OPS and 6 home runs with 29 strikeouts.
Statcast Numbers: .251 xBA, 44% HardHit%, 88.9 MPH Avg Exit Velo.
Then it was right back to the cold in June slashing .216/.286/.422 with a .707 OPS with 5 home runs and 30 strikeouts.
Statcast Numbers: .250 xBA, 49% HardHit%, 90 MPH Avg Exit Velo
As the weather got hotter in July so did Dansby slashing .298/.348/.596 with a .944 OPS, 7 home runs, and 26 strikeouts.
Statcast Numbers: .258 xBA, 47% HardHit%, 91.6 MPH Avg. Exit Velo.
The strikeouts have been a problem throughout, but you can clearly see the frustration with his up-and-down production.
Although, the statcast numbers will show he's been pretty consistent — the results just haven't been.
We know players will go on hot streaks from time to time, but what separates the good from the great is that the cold streaks are short and still good enough to be an average player.
That's why Freddie Freeman's start to the season was so odd because we weren't used to him being that cold for that long (without some unknown injury he wasn't telling us about).
Freddie will cool off at times, but even then he's still a league-average player.
When Dansby cools off at the plate he's a huge hole in the lineup and it tends to last for several weeks.
I love Dansby — always have and always will. It's been my hope for a while that he'll be the shortstop of the future for this team.
But the streakiness drives me crazy as well. Mainly because I know what he's capable of and if he can just do it more consistently he'd easily be one of the 10 best shortstops in baseball.
He's off to a good start in August — hopefully this article doesn't jinx that. Maybe the good Dansby is here to stay in 2021. That would do wonders for the Braves and Braves Twitter.