Atlanta Braves: Robbie Grossman is an Under the Radar Trade Candidate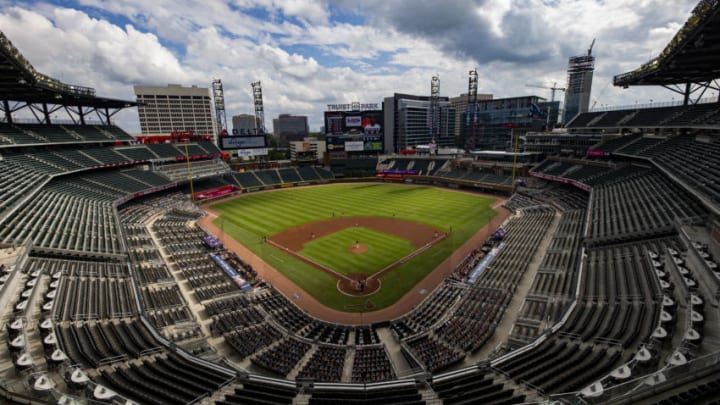 These Truist Park/Atlanta Braves seats will not remain empty for much longer. (Photo by Carmen Mandato/Getty Images) /
General manager Alex Anthopoulos and manager Brian Snitker #43 of the Atlanta Braves. (Photo by Sean M. Haffey/Getty Images) /
What will it cost the Braves
Before getting into what it might cost the Braves, take a look at the Tigers farm system. Coming into this season, they were considered a top 3-5 system in baseball.
With a few guys like Casey Mize and Tarik Skubal graduating for prospect status, their system might fall down rankings slightly, but it should still be seen as a top ten system. With guys like Spencer Torkelson and Riley Greene, the Tigers still have a talented farm.
They may not need a certain position to target prospect-wise, instead, they may just look to get the best prospect available in any move.
Moving Grossman probably does not result in acquiring an elite-level prospect, but the Tigers could find themselves netting several decent prospects to replenish their minor leagues.
The Tigers may not even consider trading Grossman with his team-friendly deal that would pay him five million in 2022. However, if they do decide to move him, would he make sense for the Braves?
Outside of Joc Pederson, take a look at the Braves' current outfield options on the big league roster.
Abraham Almonte: .225/.347/.392, .328 wOBA, 103 wRC+, -0.1 BsR, 0 UBR, -5 DRS
Orlando Arcia: .244/.300/.400 .295 wOBA, 82 wRC+ -0.7 BsR, -0.8 UBR, 1 DRS
Guillermo Heredia: .245/.329/.400 .318 wOBA, 97 wRC+, 1.5 BsR, 1.9 UBR, -5 DRS
While these three guys have given the Braves some solid moments in 2021, they are not long-term answers as starters. Grossman could be an upgrade to the Braves lineup for this year and his control through 2022 is an extra benefit.
Here is a potential trade package:
The Tigers are close to their window of competing again, and adding another young pitcher in Jared Shuster could be appealing. They could then add two lower-level lottery tickets, especially someone like Greyson Jenista, a former second-round pick that could be a solid prospect if he unlocks his power potential.
Grossman would give the Braves a more reliable option in left field. Once Ronald Acuña Jr. returns from injury next season, Grossman would still provide value.
If the universal DH is in play for 2022, and the Braves bring back Joc Pederson, Grossman could play left field while Pederson plays DH. He could also serve as the righty to Joc's lefty power bat in a potential platoon.
Grossman is not the most appealing option on the market at the trade deadline, but he could be a solid option at the bottom of the order that helps feed the top of the lineup. Remember how great the Braves offense was in 2020 thanks to the bottom of the lineup constantly feeding the guys at the top.
If the Tigers are willing to part with Grossman, and the Braves still see themselves as contenders, they should at least consider the idea. It is an under-the-radar move, like Pederson and Vogt, that could boost the Braves' offense.
He is not a superstar, but instead a solid reliable option that could be a sneaky upgrade for this team this season, and in 2022 that will not cost a fortune. This could be the type of move the Braves are looking to make at the deadline.