The Atlanta Braves Acquire Veteran Catcher Stephen Vogt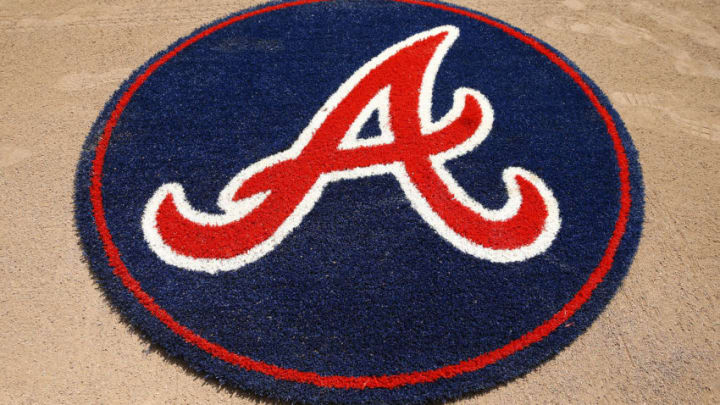 ATLANTA, GEORGIA - JUNE 01: General view of the Atlanta Braves on-deck circle mat during the game between the Atlanta Braves and the Detroit Tigers at SunTrust Park on June 01, 2019 in Atlanta, Georgia. (Photo by Mike Zarrilli/Getty Images) /
The Atlanta Braves made a late-night trade acquiring veteran catcher Stephen Vogt from the Arizona Diamondbacks.
The Atlanta Braves may have lost on Friday night, but they gained another player in Stephen Vogt. This coming a few days after acquiring Joc Pederson.
It is another move that is akin to slapping on a band-aid and hoping that fixes the situation, but it is a solid move given the price paid. Also, the Braves are desperate to get some production from the catcher position.
Here are the guys who have played catcher for the Braves so far this season:
While the baseline for catchers is pretty low, the Braves have gotten basically nothing from this position over the course of the year. Enter Vogt.
For his career, Vogt has a career line of .247/.308/.419 .311 wOBA and 96 wRC+. Essentially, Vogt has been a slightly below-average player for his career.
This year, he has played 52 games and is hitting .212/.307/.386 with five home runs, seventeen runs, seventeen RBIs, .303 wOBA, and an 88 wRC+. While it is nothing special, it is an improvement on what the Braves have had at the position this year.
As a left-handed hitter, it is important to look at his career splits against righties and lefties on the mound:
vs Left-Handed Pitchers: .223/.278/.347, .273 wOBA, & 70 wRC+
vs Right-Handed Pitchers: .253/.314/.434, .319 wOBA, & 102 wRC+
As expected, he performs better against right handers.
Now, what did the Braves give up for Vogt?
The Braves sent Mason Berne to the Diamondbacks in exchange for Vogt. Berne is a twenty-five-year-old first baseman that has floated around the low minors during his time with the organization.
In rookie ball back in 2019, Berne hit .262/.342/.415 with three home runs, ten runs, twelve RBIs, .364 wOBA, and a 119 wRC+. A solid line, but this was Berne's second year in rookie ball, and it did not appear he featured into the Braves long-term plans.
A pretty modest price to acquire Vogt.
It appears Vogt is being brought in to replace Lucroy on the roster.
One would figure that Vogt will get regular playing time since the Braves are acquiring him and will probably replace Smith as the starting catcher until d'Arnaud returns from injury.
The Braves are showing that they are willing to make small moves to keep this team afloat this season. If this move — along with the Pederson trade — can get the Braves going and put them in a good spot come the trade deadline, there is a chance we see the team attempt to acquire a bigger piece to make a legitimate push.
This move is nothing special, but a solid move that could help the Braves over the next few weeks. Hopefully, Vogt can lengthen this lineup and we see the Braves string together several wins in a row.
If so, the Braves could make another run at the division title. The NL East is still wide open, so the opportunity for the Braves to find their way back to the top of the division is still there.