Would the Atlanta Braves dare trade Freddie Freeman?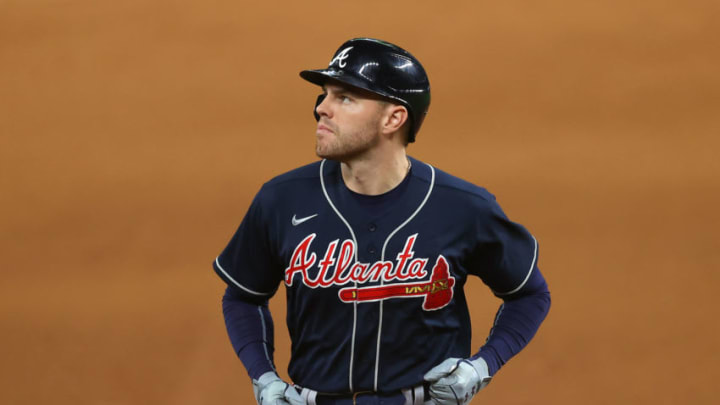 Freddie Freeman of the Atlanta Braves reacts after being robbed by Mookie Betts. (Photo by Ronald Martinez/Getty Images) /
ARLINGTON, TEXAS – OCTOBER 18: Freddie Freeman #5 of the Atlanta Braves (Photo by Ronald Martinez/Getty Images) /
What is the Braves End Game
The bottom line is a deal is extremely unlikely. And I for no reason want Freddie to be moved. I want Freddie here for a long time to come still.
And even if the Braves wanted to move him, they'd need Freddie's permission with his 10/5 rights. They can't trade him without Freddie's consent, which maybe he wants out at this point.
I am convinced both the Atlanta Braves and Freddie Freeman have an understanding of what is going to happen whether that's good or bad? Without a doubt, they have had a talk even if it was 8 months ago.
Something that could happen though is something we have seen over the years with the latest example being what the New York Yankees and Aroldis Chapman. That, of course, is dealing the player at the deadline to go chase a ring with the understanding that they get to at least play a role in the upcoming free agency of the player.
It could truly be a win-win for both the player and club if they had a handshake agreement before any deal is made.
But obviously, that is still a very dark game to play with. Let's say Freddie gets moved to the west coast and loves being back home and said team offers him a very lucrative deal. He may spurn the Atlanta Braves — and who could honestly blame him?
The only logical outcome here that is going to make sense for the Atlanta Braves and all the team's fans, is he stays on and signs a contract for multiple years quickly in the offseason.
Will it happen? I do not know, but I hope so. Again, for it to have even got to this point or this close to this outcome is semi-ridiculous.
In closing though, the Atlanta Braves — barring a quick turnaround — should do their due diligence and at least field offers for the best first baseman in the game.