Would the Atlanta Braves dare trade Freddie Freeman?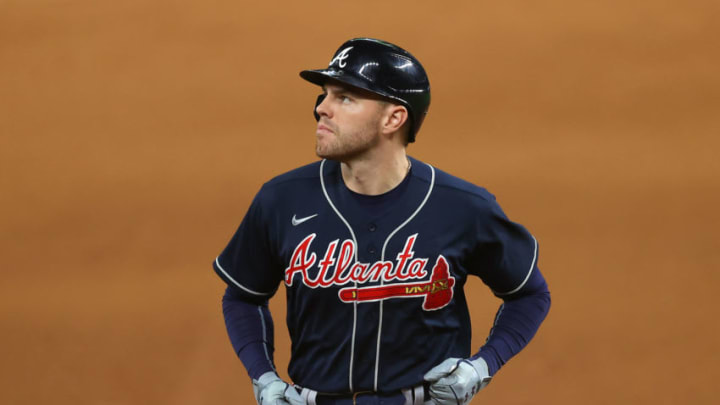 Freddie Freeman of the Atlanta Braves reacts after being robbed by Mookie Betts. (Photo by Ronald Martinez/Getty Images) /
ATLANTA, GA – JUNE 06: Would the Atlanta Braves really deal Freddie Freeman? (Photo by Edward M. Pio Roda/Getty Images) /
It's safe to say nothing has come easy for the Atlanta Braves so far in the 2021 season.
We are a few games past the halfway point, and the Atlanta Braves still sit below the .500 mark and in fourth place in the NL East at the time of this article being written.
With the passing of every day and every game, the light at the end of the tunnel seems to fade away little by little and the thought of returning back to the playoffs seems to dim more and more.
So the question must be asked, will the Atlanta Braves dare even entertain the idea of potentially shopping Freddie Freeman or even perhaps pulling the trigger on a deal?
No doubt about it, Freddie has been the epitome of everything the Atlanta Braves could want in the team's superstar for the past decade. He picked up Chipper's baton and ran with it better than anyone else could. Hell, the Atlanta community has even come to love any highlight including his first-born son Charlie.
Pain would be an understatement if something like this were to happen, but as we have heard throughout time, baseball is a sport, and sports are a business. The Braves would only be doing business right if they at worst answered the phone and listened to what numerous teams would offer for the reigning NL MVP. Obviously, the front office phones would be ringing off the hook if Freddie were truly available, which he might be as far as we know?
As anyone who has kept up or watched this 2021 Braves team knows, this team has a lot of holes, rather it be the bullpen or the backend of the lineup.
Is all hope and the playoffs gone? No, but as this stretch of games has shown us, the Braves have not been able to win when it mattered most and one glance at the stretch of games after the All-Star break will show, it is not gonna get any easier.
Unless the Braves turn it around quickly, there is a real possibility they will be sellers at the end of this month.
As is the case with most sellers, any pending free agent is certainly up for talks, and as we know, Freddie is slated to become a free agent at season's end (how we got this far is a whole other issue).
So with all that being said, what teams make the most sense?