Tomahawk Take Staff 2021 MLB All-Star Picks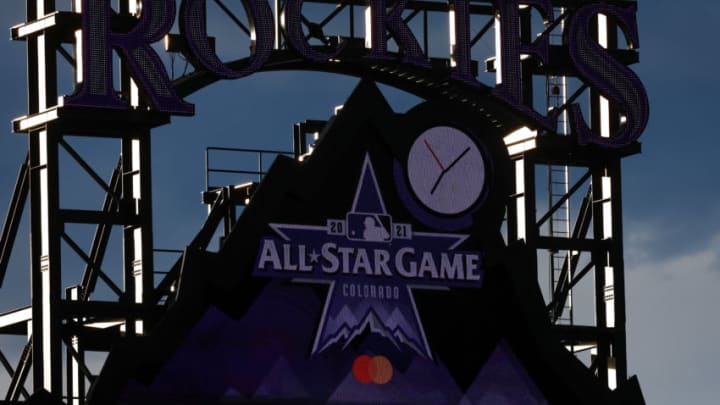 All-Star Game (Photo by Justin Edmonds/Getty Images) /
Ronald Acuna Jr. #13 of the Atlanta Braves is tagged out by Vladimir Guerrero Jr. #27 of the Toronto Blue Jays. (Photo by Carmen Mandato/Getty Images) /
First, before we get into which Atlanta Braves should start, let's start with the American League
1st base
Vladimir Guerrero Jr. (Blue Jays)
This was the easiest selection with all 8 votes being cast for Vlad Jr. 1st base in the AL has been arguably pretty weak. Even so, Vlad Jr. is finally having the breakout season many were waiting for.
Other considerations: There weren't any.
2nd base
Marcus Semien (Blue Jays)
The converted shortstop is having himself an excellent season, already proving that this signing by the Blue Jays was an excellent move.
Other considerations: Jose Altuve (Astros)
3rd base
Rafael Devers (Red Sox)
Devers continues to be one of the most consistently good players in MLB. He is one of the reasons the Red Sox have an arguably unexpected, and very impressive, winning percentage of .617
Other considerations: Yoan Moncada (White Sox), Jose Ramirez (Indians)
Shortstop
Xander Bogaerts (Red Sox)
Much like Devers, Bogaerts continues to be one of the best at his position on a very consistent basis. This year, he has taken it to another level. From a Wins Above Replacement standpoint, he is on pace for his best season to date.
Other considerations: Carlos Correa (Astros)
Catcher
Salvador Perez (Royals)
Salvy has seemed to have a resurgence at the plate. Even though he expectantly has slightly declined behind the plate, his bat has more than made up for it so far this year.
Other considerations: Mitch Garver (Twins)
Outfield
Byron Buxton (Twins)
Buxton came out of the gates swinging this year. He looked like he had finally reached his potential that many experts had been waiting for before hitting the injured list. Even so, it appears he has caught enough eyes to earn quite a few votes.
Aaron Judge (New York Yankees)
In a year where the Yankees offense has been historically bad, Judge has been a steady force. He has led the Yankees in almost every offensive category that matters.
Adolis Garcia (Rangers)
Garcia has been a bright spot in an otherwise disappointing Rangers team. His 2.5 WAR puts him up there with the league leaders, just .3 behind guys like Ronald Acuña Jr. and Fernando Tatis Jr.
Other considerations: Mike Trout (he was actually tied with Garcia in votes, but opted for Garcia here with Trout having a calf strain), Mitch Haniger (Mariners), Cedric Mullins (Orioles), Teoscar Hernandez (Blue Jays), Ramon Laureano (Athletics)
Designated Hitter
J.D. Martinez (Red Sox)
This was probably the closest race out of any candidates. Although Ohtani brings more overall value with also being a pitcher, this is not a vote for pitcher. It is a vote for DH, which Martinez has the edge in.
Other considerations: Shohei Ohtani (Angels)