Atlanta Braves: Why Is The Bullpen Struggling?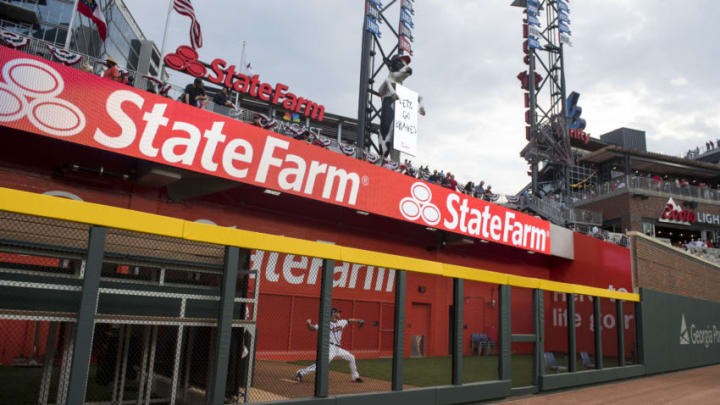 Home bullpen before game against Washington Nationals at SunTrust Park on April 18, 2017 (Photo by Pouya Dianat/Beam/Atlanta Braves/Getty Images) /
The Atlanta Braves are giving up runs at an unacceptable rate. The Bullpen has been a large part of the issue. However, is the bullpen the main issue?
Currently, the Atlanta Braves are giving more runs per game than all but 3 teams in the National League. A lot of these runs have come from the bullpen. It would be nice to say something to the order of "it's easy to blame the bullpen because you only remember the bad, and not the good", but the reality of the situation truly is bad.
Some of the guys like Nate Jones and Jesse Biddle that just were not cutting it have also lost their roster spot. However, even with those guys gone, the current guys on the roster have not been performing as expected with a combined ERA of 4.61.
There has been an unexpected Drop-Off in the Atlanta Braves Bullpen
It was to be expected for the bullpen to regress some with Shane Greene not initially re-signing, Mark Melancon signing with San Diego, and Darren O'Day now being a Yankee. However, this much of regression is a bit shocking.
Just look at the ERA drop-offs of some of the relievers.
·         A.J. Minter: 2020 ERA 0.83, 2021 4.58
·         Tyler Matzek: 2020 ERA 2.79, 2021 3.18
·         Will Smith: 2019 ERA 2.75, 2021 4.50
·         Josh Tomlin: 2020 ERA 4.76, 2021 6.86
Of course, ERA does not tell the whole story. It is the result, but it does not show why the pitcher gave up the runs, or if the pitcher is showing future signs of progression or regression.
To be fair, all 4 pitchers mentioned above are showing that their ERA is a bit inflated in comparison to their expected ERA (xERA) according Baseball Savant's metrics, but their xERA is still higher than many had hoped. It is fair to say that 2020 was not a full season with only 60 games, but the 2021 season is quickly approaching that mark.
Why is the Atlanta Braves bullpen underperforming?
In all actuality, there is most likely multiple factors and variables in play that have led to the bullpen being so bad at preventing runs. It could be injuries, players not ramped up properly due to the weird season last year, bullpen mismanagement (i.e. putting the wrong players in at the wrong time), bad coaching from the pitching coach, being too left handed heavy, or the players simply underperforming.
What is odd is that so many players not doing as well as expected. To see all the bullpen arms, except maybe Chris Martin, truly having bad years from a pure run prevention standpoint leads to the idea that there has to be some sort of root cause of it all. Not the sole cause, of course, but a large reason for the poor performance.
There may be a root cause to the struggles
It is no secret the rotation has been subpar. Of course, there have been injuries, but overall the performance has not been as good as hoped with a combined ERA of 4.33.
Because of all the runs being given up so frequently, the starting pitchers have not been eating many innings. Of the slotted starters (including Ynoa) here is how many times they have gone past 6 innings in a start:
·         Ian Anderson: 3
·         Drew Smyly: 1
·         Charlie Morton: 0
·         Max Fried: 1
·         Hauscar Ynoa: 1
This has led to the bullpen having to be brought in too often. With the bullpen arms being used more often, that results in fatigue as well as more chances for them to give up runs. Of course, ERA is a rate stat, but our human minds seem to remember the bad fairly easily. Let's be honest, how many people remember that A.J. Minter was an elite reliever in 2020, and just remember him for some of his walks?
It is not uncommon to see 1 or 2 relievers being used for around 40-45% of games, but the amount of overuse in the bullpen has been quite excessive.
Right after the Brewers series, the usage rate of the bullpen was at an alarming rate. Here are the top 5 bullpen arms and how many games they are on pace to pitch in at the time of this writing:
·         Minter: 81 games
·         Smith: 73 games
·         Matzek: 73 games
·         Jackson: 69 games
·         Tomlin: 61 games
For reference, it is important to see how much relievers were used in the past. By year, this is how many relievers on the Atlanta Braves had 61 or more appearances (skipping 2020 due to shortened season):
·         2019: 1
·         2018: 3 (with none over 69)
·         2017: 2
·         2016: 2
·         2015: 0
As it can be seen, the top 5 guys in the bullpen are being used at an alarming rate. There are 5 pitchers on pace to pitch 61 games or more. The closest there have been to this number was 3 in 2018, and none of them would have been in the top 3 in usage in 2021 if the pace stays the same.
Why is the bullpen being overused?
Some of the over usage can be blamed on Brian Snitker, but it is not 100% his fault. The blame can be spread across many areas. Lack of bullpen depth, which could be due to Liberty Media not giving Alex Anthopoulos the funds needed (although, 2021 is the second highest payroll ever, even with inflation), it could be that Alex Anthopoulos did not make the right moves, it could be bullpen mismanagement by Snitker, or it could be that the bullpen is underperforming.
In all likelihood, it is a combination of all variables involved. The point is that the bullpen as a unit are not solely to blame for this poor performance. If the Atlanta Braves want to compete this year, this issue needs to be solved, and solved quickly.