Atlanta Braves News: Snitker Mismanaging the Bullpen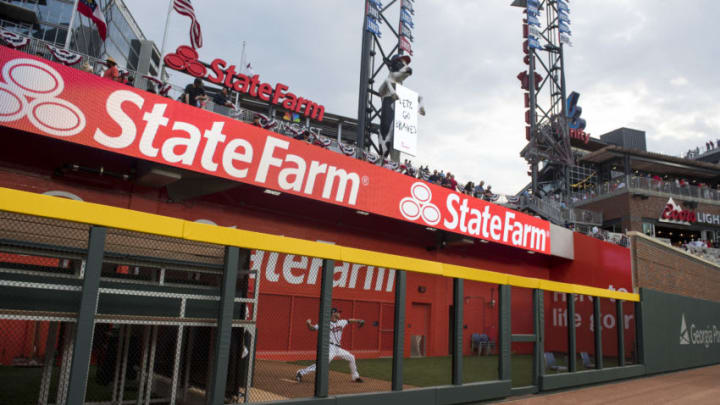 Home bullpen before game against Washington Nationals at SunTrust Park on April 18, 2017 (Photo by Pouya Dianat/Beam/Atlanta Braves/Getty Images) /
Atlanta Braves manager Brian Snitker has struggled managing the bullpen recently. 
The Atlanta Braves bullpen struggle has been especially evident in the past two games versus the Toronto Blue Jays. But the struggle isn't really with the pitchers in the bullpen, it's with the spots they are being placed in.
Brian Snitker has never been known as a great bullpen manager throughout his career. In fact, it's seen by many as his greatest flaw as a manager.
His questionable bullpen managing has even been written about before here on Tomahawk Take.
This season you could say it started with the continued use of Nate Jones when he wasn't putting up the best innings. He had 10 walks in 10.1 innings, along with 6 hits and 8 runs given up.
The past two nights, however, is when it became most evident that his bullpen strategy could be a problem for the Atlanta Braves going forward.
On Tuesday, A.J. Minter struggled to get even a single out in the 8th inning and didn't throw the ball to second quickly enough on a ground ball. This mistake and his off night resulted in the game being tied up.
Snitker then decided to bring in Jacob Webb, whose last outing had already not gone very well. On May 8th, Webb had given up 3 runs and made some fielding mistakes, which left fans scared when he came running from the bullpen.
Though he walked a batter and many will credit him with the fielding mistake and the two runs that crossed the plate, he didn't pitch all too badly.
He came into a bad situation, one he probably shouldn't have been thrown into.
Snitker has spoken before about his strategies, and having Will Smith be strictly the closer is a big part of it. But if Smith is your best pitcher, why not put him in the tough spot to see if he can get out of it with the game tied?
Wednesday night, another one of Snitker's strict strategies came into play. He mentioned about 8 months ago, as quoted in the article referenced above, he doesn't use his best pitchers because he doesn't want to overwork them.
This is why Josh Tomlin was brought in to pitch the 9th in a one-run ballgame. The Braves were behind, but the game was still within reach.
These decisions are ones that had the potential to change the outcomes of the games or at least keep the games within reach for the Braves offense.
But what is yet to be discovered is if the lack of offense or this bullpen management will continue to be the biggest problem.
It's still early in the season, but do games as close as the past two have been still need to be treated as games that need to be won?
Is the problem Snitker's apparent bad bullpen management or the lack of offensive production?
Only the coming 126 games will tell.