Atlanta Braves and the new "dead" baseball: who gets hurt most?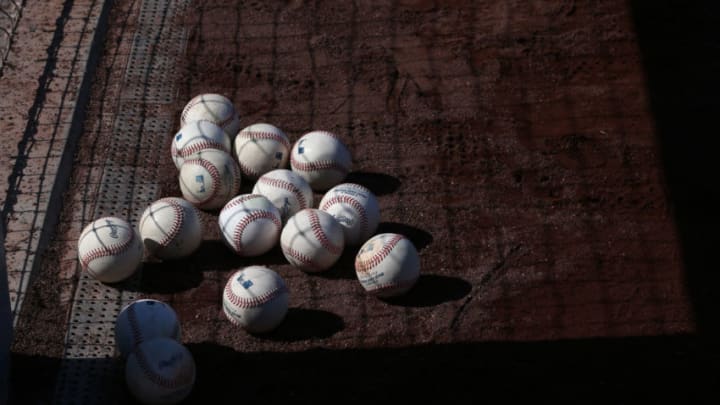 A bunch of baseballs... on the warning track. (Photo by Victor Decolongon/Getty Images) /
Here's an Atlanta Braves baseball-sized humidor… except this is more properly being used for cigars.(uncredited photo: USA Today/imagn) /
About those humidors
Did you know that five teams were already using humidors for baseball storage?  The Rockies… yep:  we knew that.  Turns out the same thing was happening with the Mariners, the Mets, Red Sox, and Diamondbacks.
Their fields ranked 11th, 13th, 6th, 14th, and 18th in home run park factors in 2020.  That averages out to … roughly average.  Sounds like MLB got the desired effect.
Of note, though:  In the case of Arizona, the story in TheAthletic noted that homer rates fell by almost 20% after their humidor went online.  Oy.
The reason for this is simple:  a baseball that has a higher humidity level is going to retain some of that airborne humidity and will be slightly heavier… thus harder to drive with a bat.  That change will be felt differently in different places.
So here's the next problem:  MLB did not (yet) tell us which five teams are the next on the list to get humidors.
We can speculate:  the Reds, Phillies, Yankees all have relatively small fields and if the goal is to "even up" all of the parks, then theirs would all be good candidates to start with.
Other possible candidates would be in Toronto (or Buffalo?) and Chicago's Guaranteed Rate Field (White Sox).
You might also suspect Dodger Stadium, Petco Park, or Angel Stadium… except they have lots of homers simply because many of their hitters mash baseballs — dead or alive.  Recent stats suggest the same for Atlanta Braves hitters.
Happily (for now), Truist Park does not appear to be a candidate, ranking 17th in home run park factors in 2020 at slightly harder-than-average.
Hopefully, the news will break soon about which fields are getting the new humidity spas for their baseballs.
But that now gets back to the question "who gets hurt most by a deadened ball?"