Coronavirus Financial Impact on Atlanta Braves and Players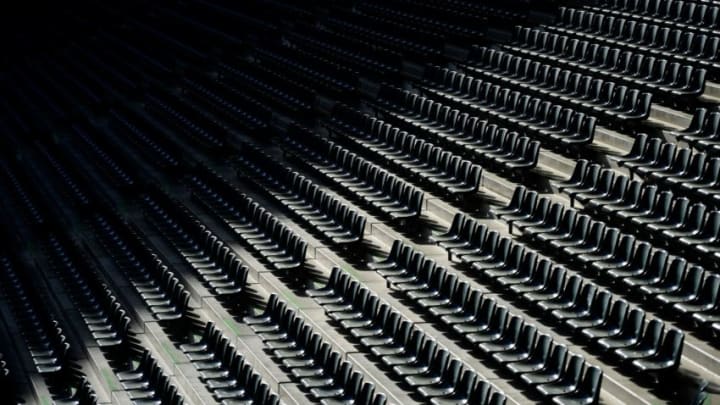 Empty seats are seen at the Borussia Park football stadium in Moenchengladbach, western Germany, on April 16, 2020, amid the novel coronavirus COVID-19 pandemic. - Large-scale public events such as football matches will remain banned in Germany until August 31 due to the coronavirus crisis, Berlin said on Wednesday, April 15, 2020, though it did not rule out allowing Bundesliga games to continue behind closed doors. (Photo by Ina FASSBENDER / AFP) (Photo by INA FASSBENDER/AFP via Getty Images) /
Nick Markakis #22 of the Atlanta Braves (Photo by Kevin C. Cox/Getty Images) /
Adversely Affected Athletes
Cole Hamels signed a one-year deal for $18 million this past off-season. Hamels will be 37 in December and the longer we go without baseball the more you have to think his value diminishes for next season. Hamels has the intention of bouncing around between contenders on one-year deals to end his career as a grizzled gun for hire, only pursuing the biggest prizes.
""I can do one year here and there and just play as long as I can play," says Hamels. "I think that's what will help give me an opportunity to play on teams that are trying to go to the postseason. If you need one guy, I can just kind of bounce around.""
If Major League Baseball is unable to play at all this year, the market probably won't be terribly high for a 37-year-old pitcher who didn't get to play last season. Even then, we know how finicky pitchers are and how much time they require to get in mid-season form. There's a chance we don't see Hamels at his best this year in a shortened season.
Something else to consider is the idea that in order to fit as many games played as possible, the league decides to run double-headers which would severely limit the number of games in which a starting pitcher would participate. Pitching every fifth-day could mean every 7-10 games.
Nick Markakis is not in a very good situation either. He appeared to be destined for a part-time role with the Braves in 2020 and is on a one-year deal for $4 million. Like Hamels, he'll be 37 entering next season. You have to wonder if this is his last season.
Marcelo Ozuna was on a one-year, provide it deal similar to Josh Donaldson's last season. Even if he proves it during a partial season, it may not garner the contract he set out to get in 2021. in a shortened-season scenario, one extended slump can wreck your stats and one hot streak could give teams pause when assessing final numbers. Those factors combined with a more shallow pocket-book does not bode well for guys looking to cash in next off-season.
It should be interesting to monitor the financial decisions being made. Will arbitration numbers accommodate the financial losses? Will that set the tone for free agency? Even if arbitration numbers were to remain the same, wouldn't that in theory, eat into the potential free agent pool for each franchise?
See, these are the things we start thinking about when we don't have the luxury of waking up in the morning and wondering why Snit rolled out Mark Melancon three days in a row when he had Will Smith and Shane Greene with full stamina. Hopefully, we get back to our second-guessing and box score reading soon enough.