Coronavirus Financial Impact on Atlanta Braves and Players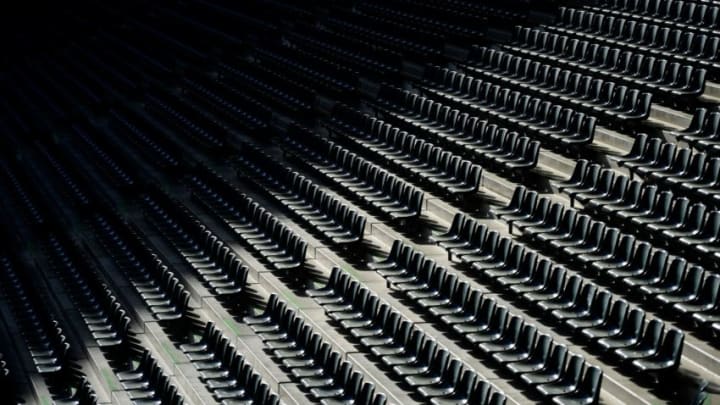 Empty seats are seen at the Borussia Park football stadium in Moenchengladbach, western Germany, on April 16, 2020, amid the novel coronavirus COVID-19 pandemic. - Large-scale public events such as football matches will remain banned in Germany until August 31 due to the coronavirus crisis, Berlin said on Wednesday, April 15, 2020, though it did not rule out allowing Bundesliga games to continue behind closed doors. (Photo by Ina FASSBENDER / AFP) (Photo by INA FASSBENDER/AFP via Getty Images) /
1996 Patrick Stewart stars in the Braves new movie "Star Trek: First Contact". /
We take a look at the potential financial impact of the hiatus on the Atlanta Braves and some of their players.
Over halfway through April and we still haven't watched the Atlanta Braves play a game. It's like a nightmare. No, it's worse than a nightmare. In fact, I'd rather be in a nightmare right now.
I had a nightmare last night where I was being chased by a tornado and it was destroying everything behind us. We (me and the stranger I was with) jumped into a trench and found our way to underground shelter (must have been some kind of post-apocalyptic scenario) and just when we thought we were safe, Captain Picard came out of the shadows in his full Borg garb and began reading sonnets with his mechanical voice…I woke up in a cold sweat and immediately wanted to go back.
The total financial impact of this crisis won't be certain until after things get back to normal, or whatever that may look like in the future. A recent article in Forbes cited a report by John Tinker of G.research LLC. in which the Braves begin playing baseball on July 4 and come out with an operating loss of about $59 million. It's an interesting article and I suggest you give it a read.
Essentially, Tinker's estimates were that even if the Braves played 80 regular-season games or approximately half of a full schedule, attendance would be reduced 76% from the previous season, causing a 73% decrease in gate and concession sales, with total revenue dropping from $438 million in 2019 to $174 million in 2020. Again, this is based on a hypothetical July 4 start.