Grading the Atlanta Braves' 2019 draft: picks 41-31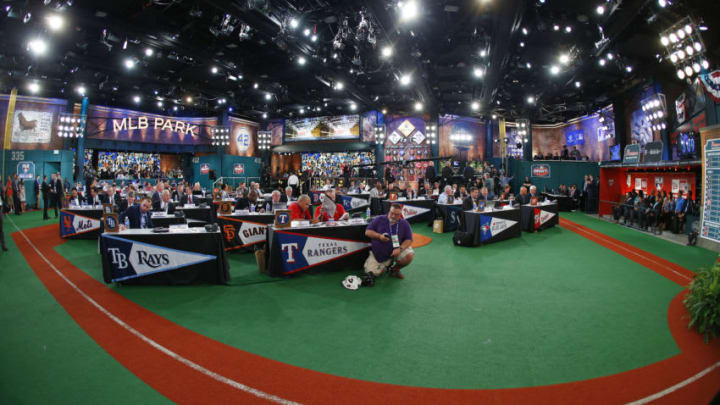 SECAUCUS, NJ - JUNE 5: Representatives from all 30 Major League Baseball teams fill Studio 42 during the MLB First-Year Player Draft at the MLB Network Studio on June 5, 2014 in Secacucus, New Jersey. (Photo by Rich Schultz/Getty Images) /
LAKE BUENA VISTA, FL – FEBRUARY 21: The Atlanta Braves stretch during a spring training workout at Champion Stadium on February 21, 2011 in Lake Buena Vista, Florida. (Photo by Mike Ehrmann/Getty Images) /
Braves 2019 Draft: picks 41-36
| PLAYER | LAST LVL | GRADE |
| --- | --- | --- |
| 2B, Cade Bunnell | GCL | C |
| SS, Joshua Rolling | DNS | — |
| OF, Grant Mathews | DNS | — |
| LHP, Davis Schwab | GCL | B |
| RHP, Mitchell Jackson | DNS | — |
| 1B, Anthony Hall | DNS | — |
| OF, Willie Carter | Danville | B |
| RHP, Justin Yeager | Danville | A |
| 2B, Cody Birdsong | Danville | B |
| RHP, Greg Leban | Danville | B |
| C, Mitch Calandra | Danville | B |
DNS: Did Not Sign
No. 41, Cade Bunnell, 2B
Grade: C
2019 stats: 26 games, .141 AVG, 1 home run, 1 double
The Braves' final pick in the 2019 draft (1,207 pick overall), the expectations most likely weren't too high to begin with for Bunnell.  At 22-years-old — 2.5 years older than the average GCL player — his average definitely doesn't look all that inspiring, though Bunnell drew 25 walks in just 64 at-bats while in rookie ball, allowing for a solid .385 on-base percentage. Even with a rough start, Bunnell's age means he'll most likely be in full-season ball in 2020.
No. 40, Joshua Rolling, SS
Did not sign
Rolling was the Braves 39th round selection in 2019, out of Bishop Manogue High School in Reno, Nevada. As expected, the son of NFL linebacker, Henry Rolling, did not sign with the Braves. Rolling is an athletic infielder with a ton of athleticism, so expect to see him back in the 2020 MLB Draft.
No. 39, Grant Mathews, OF
Did not sign
Matthews was the Tulane teammate of highly sought after 2019 pick Kody Hoese, though obviously not as talented. Still, in his junior season the outfielder hit 10 home runs with a .319 AVG. Mathews turns 24-years-old next May, giving him a bit of a disadvantage amongst college players. He'll have to have an even better 2020 season at Tulane to garner much more attention in the next draft… unless teams look at that age first.
No. 38, Davis Schwab, LHP
Grade: B
2019 stats: 10 app., 1 start,  22 innings, 3.68 ERA, 8.2 K/9, 4.5 BB/9, 1 HR
As a 22-year-old (he turns 23 in late January), Schwab didn't exactly impress in his first stint with the GCL Braves. However, as a lefty at Missouri State in 2018 and 2019, he never posted big time numbers, either (combined 5.73 ERA in those last two seasons).
Schwab is a big guy (6'2″, 225 lbs.) with a deceptive delivery from the left side, meaning high strikeout totals may be in his near future.
No. 37, Mitchell Jackson, RHP
Did not sign
Like Schwab above, Jackson is a behemoth on the mound; though, unlike Schwab, Mitchell is a righty and didn't sign with the Braves. The two-way righty (he also played first base in high school) has a lot of size, which really props up his prospect stock, however, reports indicate Mitchell topping out in the mid-80s last year, which isn't going to cut it. The righty is listed as a freshman for the 2020 Southern Illinois baseball team.
No. 36, Anthony Hall, 1B
Did not sign
Instead of signing with the Braves, Hall decided instead to play for the Oregon Ducks in 2020, after batting .366 and knocking in 33 runs from four homers in high school. The 6-foot-3 first baseman already has a Tommy John surgery in his rearview mirror and is reported to have some decent pop as a more athletic-type corner infielder.