Braves news: Spring training is around the corner, Devers extension, more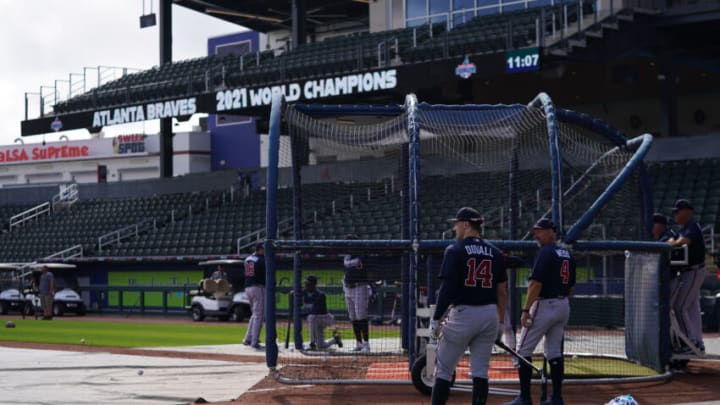 Atlanta Braves outfielder Adam Duvall (14) stands near the batting cage with bench coach Walt Weiss (4) during spring training work outs at Cool Today Park. Mandatory Credit: Jasen Vinlove-USA TODAY Sports /
If you are looking for a big move from the Atlanta Braves yesterday, prepare for some disappointment as the team remained quiet again yesterday. Not exactly a shock given that the pace of the offseason overall has come to a crawl, but we wouldn't hate another minor move here and there.
We have a couple of important deadlines coming up, though. The deadline for teams and arbitration players who haven't agreed to settle to submit arbitration figures is January 13th. A couple of days later, the international free agency period opens up (it had normally been July 2, but things have been weird the last few years with COVID and the lockout).
Finally, we will start getting news of guys reporting to spring training early by the end of the month with the mandatory report date for spring training coming in February. Here is a helpful link to the spring training schedule for 2023.
More Braves News
Elsewhere on the site, the prospect retrospective train rolled on with a look at the Braves' sixth ranked prospect from 2012, Sean Gilmartin. Injury prevented Gilmartin from doing anything with the big league club before he was traded to the Twins, but he did see intermittent playing time in the big leagues across six seasons after that.
MLB News
Rafael Devers remains the priority of the Boston Red Sox as both sides have been working on getting a contract extension worked out. It was reported yesterday that the two sides were close to an 11 year, $331 million extension although nothing was final as of this writing. Devers is very good and that number doesn't seem crazy given what we saw on the free agent market this winter.
It is pretty wild that Johnny Cueto is still around and pitching effectively given his age and injury history. However, Cueto was pretty good with the White Sox last season and it sounds like the Marlins, Padres, and Reds are interested in him.