Coronavirus Financial Impact on Atlanta Braves and Players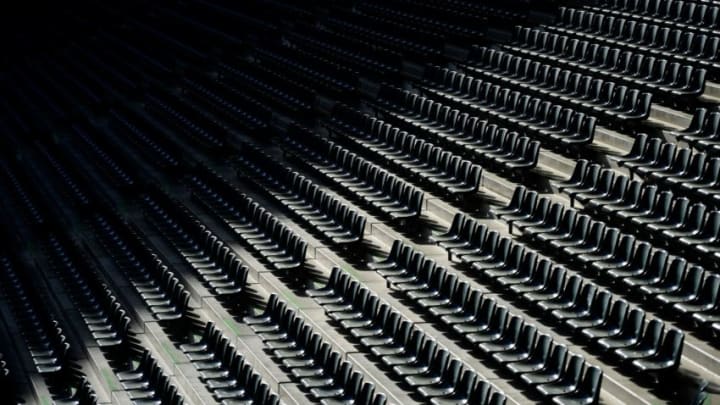 Empty seats are seen at the Borussia Park football stadium in Moenchengladbach, western Germany, on April 16, 2020, amid the novel coronavirus COVID-19 pandemic. - Large-scale public events such as football matches will remain banned in Germany until August 31 due to the coronavirus crisis, Berlin said on Wednesday, April 15, 2020, though it did not rule out allowing Bundesliga games to continue behind closed doors. (Photo by Ina FASSBENDER / AFP) (Photo by INA FASSBENDER/AFP via Getty Images) /
BOSTON, MA – APRIL 9: The "Teammates" statues wear makeshift masks. (Photo by Billie Weiss/Boston Red Sox/Getty Images) /
Resumptive Apprehension
The line of logic is that fans will be a little hesitant to jump out of quarantine right into a giant bowl of 40,000 people. Additionally, there will likely be games played without fans. in fact, there may be an entire season played without fans. We really don't know what will happen, just like when Star Trek ended the season with Picard assimilated into the Borg.
The main point is that even if 50% of the games are played, the teams won't bring in 50% of their revenue. The TV contracts will still payout on par with the number of games played, but that only makes up about half of the Braves' revenue.
Meanwhile, player salaries will be dependent upon games played, not to mention the fact that the Braves have been covering employee salaries during this time of crisis and need and recently committed to doing so through May. 
Players Potentially Affected
Players on one-year deals will presumably be adversely affected heading into next off-season while teams attempt to recover from their losses.
The Wall Street Journal discussed this notion in mid-March when assessing Mookie Betts' situation and how even if he hit free agency on time (which he will) then his market won't be what it was due to the significant financial impact each team will have suffered. They just won't have the money to spend.
Now we'll take a look at a few players on the Braves whose value could be severely impacted.