Grading the Atlanta Braves' 2019 draft: picks 41-31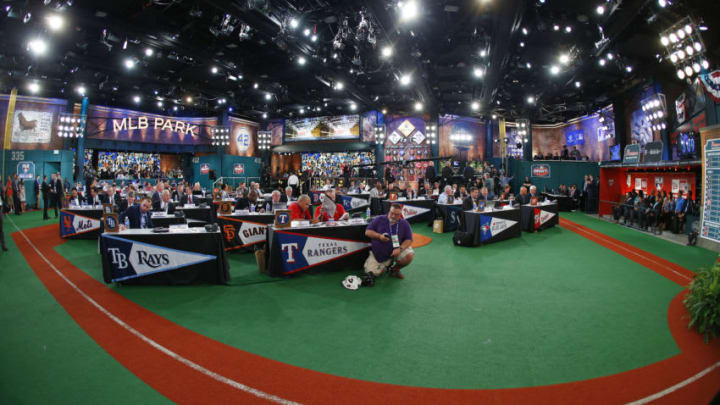 SECAUCUS, NJ - JUNE 5: Representatives from all 30 Major League Baseball teams fill Studio 42 during the MLB First-Year Player Draft at the MLB Network Studio on June 5, 2014 in Secacucus, New Jersey. (Photo by Rich Schultz/Getty Images) /
circa 1950: 14 year old Joseph Carrieri from the Bronx, New York, who works as a bat boy with baseball team the Yankees. (Photo by Three Lions/Getty Images) /
Rounds 35 to 31
No. 35, Willie Carter, OF
Grade: B
2019 stats: 52 games, .242 AVG, 4 home runs, 10 doubles, 27 RBI
Despite being drafted out of the small NAIA school of Weber International University (Florida), Carter appears to be a legit minor league player. His performance in Danville didn't quite match the .377 average and 19 home runs he produced in his last season at Weber, but the 6-foot, 205-pound outfielder possesses several tools, including decent speed (seven stolen bases with the Rookie-Advanced club).
No. 34, Justin Yeager, RHP
Grade: A
2019 stats: 15 app., 25.1 innings, 3.91 ERA, 13.1 K/9, 5.3 BB/9, 3 home runs
Yeager is another 6-foot-5 hard-throwing righty that really built off a strong final season at Southern Illinois (2.27 ERA, 10.6 K/9) by pitching at two levels within the Braves' minor league system. After working just a single two-inning relief appearance in the Gulf Coast League, Yeager was moved up to Danville, where he struck out 34 batters in 23.1 innings. His 5.00+ walks per nine isn't ideal, but it's clear that Yeager knows how to strike out opposing batters.
No. 33, Cody Birdsong, 2B
Grade: B
2019 stats: 57 games, .234 AVG, 4 home runs, 10 doubles, 22 RBI
After posting a Division 2 All-American season at Quincy University in 2019, Birdsong's batting average dropped 50 points (.284 to .234), though he wound up with a comparable amount of hits (49) during his 57-game stint with Danville (compared to 52 games at Quincy).
Birdsong was a .321 hitter in college and showed some pop after hitting 14 homers in 2018 and 13 in 2019. It's still too early to know whether or not some of that production will translate at the pro level, but his age-22 season (turns 23 in January) in Rookie-Advanced was at least respectable.
No. 32, Greg Leban, RHP
Grade: B
2019 stats: 13 app., 22.1 innings, 3.63 ERA, 11.7 K/9, 5.6 BB/9, 1 HR
Command has been an issue for Leban dating back to his days at Austin Peay State (Tennessee), and unfortunately it was a problem during his first season in the Braves' system. His first stop, with the GCL Braves, Leban walked four batters in 4.2 innings, allowing five earned runs during that three-game stint.
However, he settled back down once with Danville, walking ten batters in 17.2 innings, allowing four runs — not great but a bit better. The power-pitching righty will turn 24 in May.
No. 31, Mitch Calandra, C
Grade: B
2019 stats: 28 games, .271 AVG, 4 doubles, 7 RBI
Calandra is another D2 player, drafted out of Eckerd College (Florida) in the 30th round this past June. The 5-foot-11 catcher is known for an unbelievable ability to hit for a high average, illustrated by his career .349 AVG in college.
Calandra doesn't wield much power, and he only walked three times in 107 at-bats with Danville in 2019, but it's hard to knock a catcher for hitting .271 in his first pro season. Unfortunately,
Calandra will be a 23-year-old in 2020 (turns 23 in January), meaning his excellent contact must continue once he joins a full-season club next season.