Grading the Atlanta Braves' 2019 draft: picks 41-31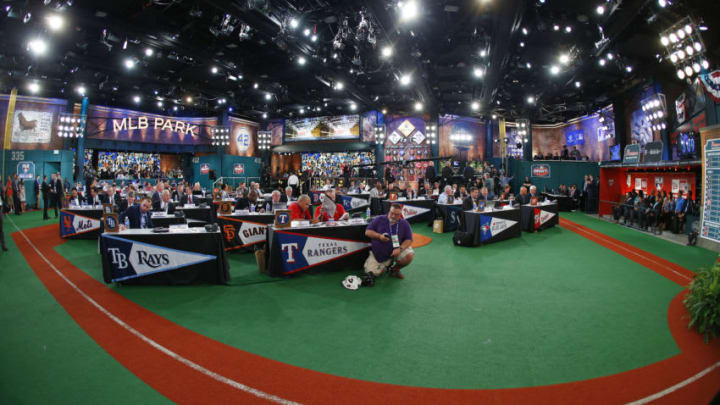 SECAUCUS, NJ - JUNE 5: Representatives from all 30 Major League Baseball teams fill Studio 42 during the MLB First-Year Player Draft at the MLB Network Studio on June 5, 2014 in Secacucus, New Jersey. (Photo by Rich Schultz/Getty Images) /
WEST PALM BEACH, FL – MARCH 13: A baseball sits on the field before a spring training baseball game between the the Atlanta Braves and the Washington Nationals at Fitteam Ballpark of the Palm Beaches on March 13, 2019 in West Palm Beach, Florida. (Photo by Rich Schultz/Getty Images) /
It will be several years until we can fully appreciate the Braves' 2019 draft, but it's the perfect time to look back at each draftee's performance this past season.
The Atlanta Braves broke the mold of pitcher-heavy drafts in 2019 — at least in the early rounds — and selected six position-players within the team's first ten picks. Drafting several hitters early in the draft may not come off as very notable, but for the Braves, selecting one as a first pick hadn't happened since 2010, when the team chose shortstop Matt Lipka.
Did this new approach work? It's really too early to tell… but we'll let you know what we think so far.

Considering the already elite group of pitchers in the organization, going a different route for once should, in theory, even out the talent within the Braves' minor league system. If nothing else, it breaks a streak of six consecutive pitchers taken as the top pick for the Braves, which let's be honest, isn't exactly what this organization needs right now.
The truth is it will take several years before we know exactly how successful the 2019 MLB Draft was for the Braves. In fact, the Braves are still realizing the impact of past drafts, with Mike Soroka (2015) breaking out this past season and Ian Anderson (2016) now right on the cusp of contributing to the major league club. Depending on how fast players develop, these drafts have a way of lingering for many years.
Though it's still too soon to accurately give out an overall grade for the Braves' 2019 draft, there are still ways to keep tabs on the most recent class of players, which is what we're going to look at over the next couple of weeks.
In this series, we will look at each and every player drafted (and signed) by the Braves in 2019, though to break this up a bit we'll cover the class in four pieces, with today's column covering the Braves last 11 picks (pick 41 down to 31).
Obviously, not all of these players signed with the Braves, but we'll include them as well to keep each post consistent in size; plus, we may see a few of those unsigned players in the 2020 MLB Draft.
The Method
Each group of ten (or 11 for today) will include a table featuring each player's last minor league level reached, and most importantly — as a way to characterize each player's 2019 performance — I will give each player a grade:
A: excelled
B: held his own
C: struggled
This may seem like an oversimplified way to go about such a thing, but the focus here is less about the actual grading rubric and more about simply determining how each player performed in their first professional season.
Choosing A, B and C obviously allows for only three different grade outcomes, which is plenty for such a small sample of results (most of these players played no more than 30-35 games).
We must remember that these players were drafted for a reason and giving a struggling 18-year-old an 'F' in his first taste of minor league baseball probably doesn't accurately represent his actual skills on a baseball field. So don't interpret each grade as a description of the player's talent level.