Atlanta Braves Franchise Top Managers: #5 – Fred Haney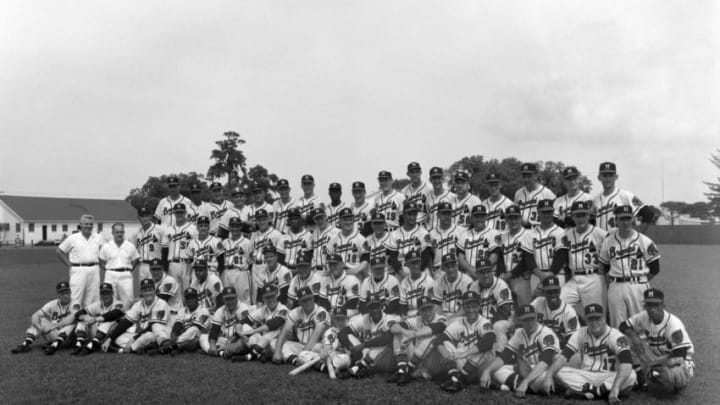 At Spring Training: your 1957 Milwaukee Braves.... 9 years before becoming the Atlanta Braves (Photo by: Kidwiler Collection/Diamond Images/Getty Images) /
Just as Fans lined Peachtree for the Atlanta Braves World Series parade, Milwaukee Braves fans lined Wisconsin Avenue to their 1957 World Series win. /
Why They DIDN'T Win in '56?
Two weeks into Spring Training, Roy Terrell penned Fred Haney Lights A Fire for Sports Illustrated. He wrote that managers of other teams expected the Braves to win, and when they didn't, many implied Grimm and Haney should have done better.
Knowing he'd remain anonymous, one manager said if he'd managed the team, the Braves would have won the league by 10 games. Terrell asked Haney what happened, and his response was more candid than any I've heard from an Atlanta Braves manager in a similar situation.
""The failure to hit up to expectation all season long at four positions: catcher, second base, third base and left field . . .  failure to (execute) – lousy bunting, poor base running, throwing to the wrong base- lost . . . games. And a hitting slump in September."
""Everybody has hitting slumps; ours just happened. . .at the worst possible time. . . .""
Haney was correct that Danny O'Connell at second and Bobby Thomson in left didn't produce much all season.
However, as I wrote in 2021, Del Crandall was one of the best catchers in Atlanta Braves history and, at that time, a better hitter than Roy Campanella. he posted a .866 OPS in April, 1.010 OPS in May, .815 OPS in June, and a .786 OPS in July.
His slump began to bite in August when he started to wear down from playing almost every day, and it really began to be a burden in September. Haney rested him when he could, but both backup options were worse at the plate.
Third baseman Eddie Mathews had a typical Eddie Mathews season:
21 doubles,
two triples,
38 homers – fourth in the NL –  and
batted .272/.373/.518/.892, walking 91 times, and striking out 86.
But after hitting 14 homers in August and posting a 1.114 OPS, he "slumped" to a .280/.374/.409/. 782 OPS in September.
MVP Seasons Win Championships
After that cutting diagnosis, it's no wonder the 1957 Braves had a different Spring Training than they did in the past.
Haney wanted a team that didn't wear down as quickly and didn't repeat the mistakes of 1956. He worked the team harder than at any time since Southworth held the reins, emphasizing conditioning and fundamentals.
After a few days of this, he told them what their hard work now would do for them.
""You may hate me in the spring but you'll love me in the fall when you pick up your World Series checks.""
Haney was right.
Like the Atlanta Braves of the 90s, their pitching dominated the league.
36-year-old Warren Spahn posted a 21-11 record with three saves in 39 games – 35 starts- while pitching to a 2.69 ERA in 271 IP that included 18 complete games and four shutouts.

Spahn finished fourth in NL MVP voting

Burdette appeared in 367 games, made 33 starts, posted a 3.72 ERA over 256.2 IP, and posted a 17-11 record that included 14 complete games and one shutout.

Burdette finished 24th in NL MVP voting and went on to pitch three complete games in the World Series and won all three – two were shutouts – and was named World Series MVP.

The man few remember, Bob Buhl, posted an 18-7 record and pitched to a 2.74 ERA in 216.2 IP that included 14 complete games and two shutouts.

Buhl finished 14th in NL MVP voting

Closer Don McMahon appeared in 32 games and recorded eight saves while pitching to a 1.54 ERA.
Aaron batted .322/.378/.600/.978 with 44 homers, 27 doubles, and six triples and was named NL MVP.
Eddie Mathews batted .292/.387/.540/.927 and hit 32 homers, and rookie left fielder Covington posted an .875 OPS and finished eighth in N MVP voting.
Johnny Logan finished 25th in NL MVP voting,
The Braves finished 95-59-1 and rode Aaron, Mathews, Covington, and Burdette to the second World Series title in franchise history.