Atlanta Braves Franchise best managers: #7 Billy Southworth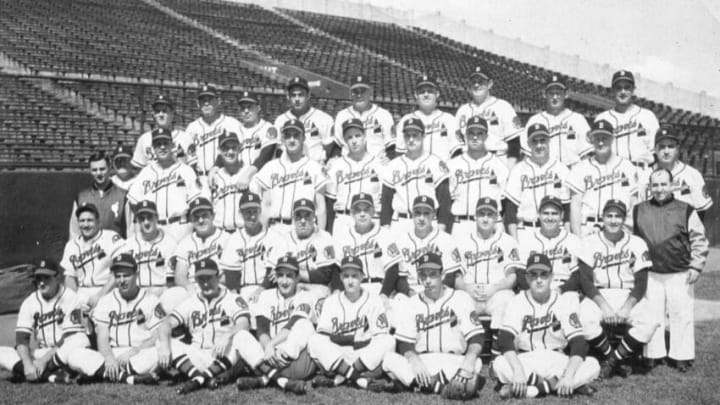 Atlanta Braves Hall of Famer Warren Spahn led the Boston Braves to the National League Championship in 1948. (Photo by Mark Rucker/Transcendental Graphics, Getty Images) /
Number seven manager on the list of the best managers in Atlanta Braves history is Billy Southworth, who managed the 1929 Cardinals to an NL Championship. (Photo by George Rinhart/Corbis via Getty Images) /
The next manager on the list of Atlanta Braves Franchise top-10 managers led the Boston Braves to their first World Series in 34 years.
Resurrection of a franchise
After winning the 1914 World Series, the franchise now known as the Atlanta Braves languished in the bottom half of the National League for 31 years. Lou Perini, Joe Maney. and Guido Rugo took control of the team in 1943 but had to wait until WWII ended to make their first big change.
Perini was the driving force behind the resurrection of the Braves and owner of a successful construction company. He knew that excellence required proven leadership, so he made his first priority hiring the best manager available, Billy Southworth.
Southworth managed the Cardinals from 1940 through 1945 winning, the World Series in 1942, NL Pennant in 1943, and a second World Series in 1944.
Atlanta Braves underpaying Snitker?
According to the Arizona Republic, Atlanta Braves Manager Brian Snitker's base salary in 2018 was $800K a year.
Southworth's SABR biography says agreed to join a team his biographer described as the laughingstocks of the senior circuit because Perini paid him very well. Perini's SABR bio added the details of the deal.
". . .  he lured former St. Louis Cardinals manager . . . with a record $35,000 annual salary for three years plus bonuses of up to $20,000 for finishing third, second, or first."
In today's dollars, Southworth's base contract was worth $1.53M – $535K a year – and included bonuses of up to  $305.6K a season.
Brian needs a new agent,
Boston Braves New Boss
William H. Southworth was born in Harvard, Nebraska, on March 9, 1893, and according to his daughter, was named after a family friend, Buffalo Bill" Cody.
Billy and his family moved back to Ohio when he was nine, settling first in Saranac before moving to Columbus in 1902. He played Sunday ball and worked for the railroad until Portsmouth signed him in 1912.
Over the next 18 years, he played for Cleveland, the Pirates, Braves, Giants, and Cardinals, became a manager in the Cardinals system in 1927, and took his team to the Minor League Junior World Series twice. His showing there earned him the job for St Louis in 1929, where he posted a 43-45 record before being replaced.
Southworth bounced around the minors for the next 11 years, winning the Minor League Junior World Series twice and a league championship on three other occasions. In 1940, Southworth returned to St Louis and managed them through the war years.