Atlanta Braves Prospects: Freddy Tarnok Scouting Report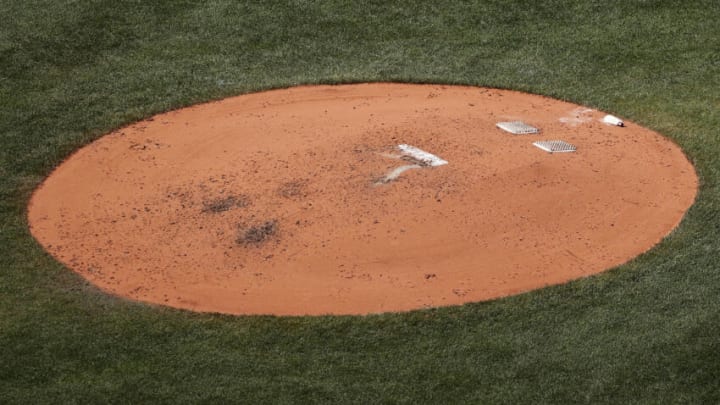 BOSTON, MA - JULY 28: The pitching mound is seen during first game of a doubleheader between the Boston Red Sox and the Toronto Blue Jays at Fenway Park on July 28, 2021 in Boston, Massachusetts. (Photo By Winslow Townson/Getty Images) /
Atlanta Braves fans gather during the World Series. (Photo by Megan Varner/Getty Images) /
Freddy Tarnok — The Ceiling and Projection
I'm trying not to get too overhyped on Tarnok because he still has a lot to learn and a lot to prove at the minor league level.
However, I do think he has the ceiling of a number two starter. Someone who could post a 3.25-3.50 ERA someday.
As mentioned, he already has two plus pitches right now. Assuming he continues to throw strikes at the big league level, as he is right now, I'd project him to be a number three or four starter with an ERA around 3.8-4.2 with a BB/9 of 3.5, a K/9 of 10, and a WHIP of 1.30.
But again, I believe he has the potential to be even better than that as he continues to grow.
Freddy Tarnok — The Timetable
Just like I said with Joey Estes, there is absolutely no reason to rush Freddy Tarnok. I'd send him right back to Double-A to start 2022 and let him stay there the entire season.
Maybe you give him a late call-up to Triple-A, or perhaps you even give him a call-up to the big leagues as a reliever to end the season.
But I would not really expect Tarnok to get a shot as a starter in the big leagues until the second half of 2023.
I know he's on the 40-man roster and that might put pressure on the Braves to get him to the big leagues. But he's still a raw talent and we've only seen the potential of that talent in half a season.
Let him continue to grow and work on his game at the minors in 2022. Don't hurt his development by rushing him to the big leagues when the Braves have several other starters ahead of him ready for a chance.