TomahawkTake Podcast Episode 7: Atlanta Braves lose out on Josh Donaldson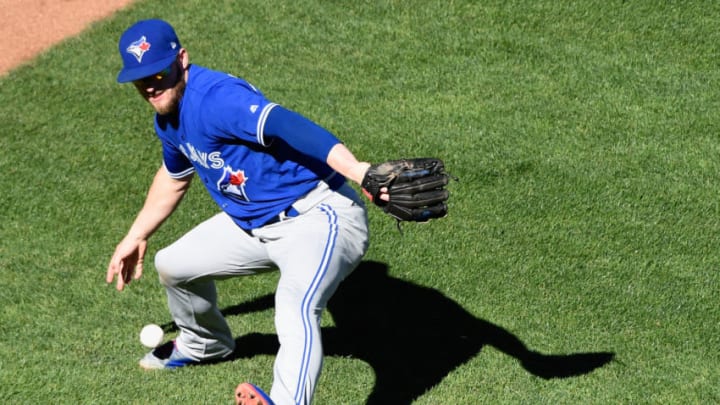 MINNEAPOLIS, MN - SEPTEMBER 17: Josh Donaldson #20 of the Toronto Blue Jays is unable to field a bunt single by Brian Dozier #2 of the Minnesota Twins during the fifth inning of the game on September 17, 2017 at Target Field in Minneapolis, Minnesota. The Twins defeated the Blue Jays 13-7. (Photo by Hannah Foslien/Getty Images) /
What a revolting development this is!  The Atlanta Braves drew their line in the sand, and Josh Donaldson opted to go to a line further away.
The news finally broke last evening… the Atlanta Braves finally found out that their bluff was called:  in the end, Josh Donaldson was still holding a better hand, and the Minnesota Twins folded theirs.
It's pretty clear now that while the Braves were reluctantly coming in with a 4 year offer, their dollars just never matched up, and over the next 4 years, the Braves were unwilling to even match the annual contract value they gave him in 2019.
So in light of this news, Jake, Fred, and Alan opted to get on the phones for an emergency podcast session.  This 30-ish minute session discusses our general reactions and then quickly moves into the next problem… where do the Atlanta Braves go from here?
Next Man Up?
We've already written extensively about this subject – including the 'what if?' scenario that's now facing the team.  So we discussed a lot of names in this episode:
… and we still don't know that this the exhaustive list of who might play either left field or third base for Atlanta in 2020.
What we do know:  it's already January 15, and things are going to move swiftly from here:  Donaldson's decision point has been holding up a lot of activity in the baseball markets since mid-December; and now that this barrier is lifted, the next week is liable to be extremely busy.
Here's the direct download link for the podcast's MP3 file as well.  You can also find this on twitter, facebook, and in the itunes store.
I sure hope Alex Anthopoulos is carrying a backup charger for his cell phone… he's gonna need it!